Inox has quickly become one of AMSC's key wind turbine manufacturing partners
DEVENS, Mass., Feb. 11, 2013 -- AMSC (Nasdaq:AMSC), a

global solutions provider serving wind and power grid industry leaders,
today announced that it has received an order worth in excess of $30 million
for wind turbine electrical control systems (ECS) from Inox Wind Limited,
part of India's Inox Group of Companies. AMSC expects to begin shipments
under this new order during the current quarter and complete shipments in
2014. This is the fifth and largest order that AMSC has received from Inox
since the company began volume production of its 2 megawatt (MW) wind
turbines, which were licensed from AMSC in May 2009.
"To date, we have installed nearly 250 MW of high-quality, reliable,
cost-competitive wind turbines in India -- a solid step toward our objective
of becoming India's premiere wind power company," said Devansh Jain,
director of Inox Wind Limited. "We are already among India's top five wind
energy companies with well respected customers including India's largest
wind IPP's, private power distribution companies and prestigious government
organizations. We are looking forward to continuing our rapid growth in the
Indian market and working with AMSC to help India meet its energy demands
with clean, emission-free power."
AMSC's ECS are an integrated, high-performance suite of power electronics
systems that include the wind turbine power converter cabinet, internal
power supply and various controls. Together, these systems serve as the
"brains" of the wind turbine and enable reliable, high-performance operation
by controlling power flows, regulating voltage, monitoring system
performance, controlling the pitch of the wind turbine blades and the yaw of
the turbines to maximize efficiency.
"Since the inception of our relationship, Inox has quickly become one of
AMSC's key wind turbine manufacturing partners, and India has emerged as one
of our key markets," said Daniel P. McGahn, President and CEO, AMSC. "We are
proud to partner with Inox, a company that is dedicated to manufacturing
excellence and committed to helping India to bridge its power gap with
high-performance wind turbines."
To learn more about AMSC's product offerings for the wind industry, please
visit: http://www.amsc.com/windtec/index.html.
About Inox Wind Limited
Inox Wind Limited is part of the Inox Group of Companies. Inox Group is a $2
billion+, professionally managed business group, with interests in diverse
businesses including Industrial Gases, Refrigerants, Engineering Plastics,
Chemicals, Carbon Credits, Cryogenic Engineering, Renewable Energy and
Entertainment. The INOX Group employs close to
9,000 people at more than 150 business units across the country and has a
distribution network that is spread across more than 50 countries around the
globe. Each INOX Group company is characterized by three distinct
characteristics - early identification of a winning business idea, building
it to a size of dominant market leadership in that segment, and attaining a
profit leadership position through cutting-edge efficiency in operations.
The Inox Group of Companies, besides Inox Wind Limited, includes Inox Air
Products Limited, Gujarat Fluorochemicals Limited, Inox India Limited, Inox
Renewables Limited, Inox Leisure Limited and Fame India limited. More
information is available at www.inoxwind.com.
About AMSC (NASDAQ: AMSC)
AMSC generates the ideas, technologies and solutions that meet the world's
demand for smarter, cleaner … better energy. Through its
Windtec(TM) Solutions, AMSC provides wind turbine electronic controls and
systems, designs and engineering services that reduce the cost of wind
energy. Through its Gridtec(TM) Solutions, AMSC provides the engineering
planning services and advanced grid systems that optimize network
reliability, efficiency and performance. The company's solutions are now
powering gigawatts of renewable energy globally and enhancing the
performance and reliability of power networks in more than a dozen
countries. Founded in 1987, AMSC is headquartered near Boston, Massachusetts
with operations in Asia, Australia, Europe and North America. For more
information, please visit www.amsc.co
Featured Product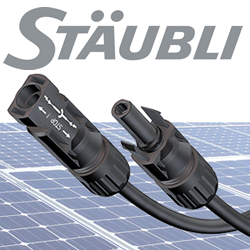 ​Stäubli Electrical Connectors are used on more than 300 GW, over 50% of the PV capacity worldwide. The MC4 family of UL and TUV listed products include connectors, in-line fuses, branch connectors, cable assembly and more.