Total installed capacity of 52.5 MWp signed with investor Siam Solar Energy since autumn 2012***** Conergy CEO Comberg: "We want to specifically expand our large project business."----- Conergy one of the market leaders in Thailand; 10% market share----- Thailand to cover 25% of energy demand with renewable energy by 2020
Hamburg / Bangkok, 12 February 2013 – Conergy continues to strengthen its leading position in Thailand in 2013, heading into the new year with a major 31.5 megawatt order. It is already the second large-scale project for the Bangkok-based client and investor Siam Solar Energy 1 Co., Ltd. (SSE), a subsidiary of Thai Solar Energy Company Limited (TSE). In autumn 2012, Conergy started constructing two power plants for SSE with a total installed capacity of 21 megawatts. Both plants are scheduled to be connected to the grid in the first quarter of 2013. Three additional solar parks with an installed capacity of 10.5 megawatts each are now to follow. Hence, the two partners' commitment towards each other allowed the three additional solar parks to be realized within a few months of the first two solar parks now under construction, for a total combined installed capacity of 52.5 megawatts.

Conergy CEO Comberg: "We want to significantly expand our large project business."
"We have made many important decisions already last year to strengthen our international project business and to significantly expand it in the solar growth markets. With this large-scale project in Thailand we let action follow our decisions," said Conergy CEO Dr. Philip Comberg. "For the future, we intend to work on large-scale projects specifically and long-term with financial investors and strategic industrial customers who want to expand their portfolio like SSE with independent energy power plants. In addition to the growing Asian markets such as Thailand, we are focusing our efforts on the American solar market."
The three new power plants are located in the provinces of Suphanburi and Kanchanaburi in western Thailand, some 80 miles from Bangkok. Once again, Conergy is acting as general contractor for this major order, assuming responsibility for the entire planning, engineering and design as well as for the supply of the components and the installation of the three large-scale solar plants, which will cover around 195 acres in total. For the construction work on the ground, Conergy is collaborating again with its long-standing local partners Annex Power and Ensys.
SSE's COO Maleenont: "We are impressed by Conergy's high quality standards."
Solar pioneer SSE is once again going for the highest levels of quality and sustainability. The company multiplied its solar capacity by a factor of 8 last year, and it intends to further expand it. "Conergy is fulfilling our stringent requirements perfectly for the construction of the first two power plants. We are very impressed with their high quality standards, particularly with respect to the planning and the on time and precise implementation," said Cathleen Maleenont, COO at Siam Solar Energy 1 Co. Ltd. "We continue to put our trust in highly efficient parks conforming to European standards and have therefore decided once again in favour of Conergy as a strong partner for this major order."
Conergy's CSO Lohoff: "We want to further increase our 10% market share."
With the three solar parks, Conergy is forging ahead on its successful course in the country of smiles: "With nine power plants and a total capacity of 70 megawatts, Conergy is one of the market leaders in Thailand," said Marc Lohoff, Conergy Chief Sales Officer Asia-Pacific and North America. "Currently, Thailand has to cover around half of its primary energy demand with imports, which is very costly in the long run. The country is therefore subsidising solar energy. According to government figures, the solar capacity installed in Thailand to date is around 370 megawatts – with a strongly rising trend. We therefore want to further increase our market share of around 10% and benefit from this growth potential, drawing on our extensive experience."
Conergy's President Asia & ME Alexander Lenz: "We are facing very favourable political and natural conditions."
"Thailand does not only have to import half of today's energy demand but also has to meet an estimated 39% increase in energy demand in the next nine years according to the Thai Board of Investment", Alexander Lenz added. "As a result, the agency recently announced that one of its top priorities is to boost investments in renewable energy in the kingdom in order to achieve one quarter of their total energy consumption from non-petroleum sources by 2022. The government is aware of the importance of renewable energy and its implications on Thailand's growth and development. Moreover, we expect to reach grid parity by the end of the year due to the high irradiation levels and falling PV system prices. We are facing very favourable political and natural conditions in the country."
Conergy plant produces more energy than Kanchanaburi residents consume
Once construction of the power plants is completed in May 2013, the 130,000 Conergy "P-series" modules installed on some 80 miles of Conergy SolarLinea mounting systems will generate over 45,200 megawatt hours of clean electricity each year. That is 1.3 times the electricity consumed by the residents of the provincial capital Kanchanaburi, location of the infamous Bridge over the River Kwai. The solar parks will also prevent the emission of around 24,000 tonnes of damaging CO2 each year, more than 5,930 acres of wood can absorb over the same period.
Thai support for solar via power purchase contracts with energy suppliers
Government support for solar in Thailand works via licences, similar to the situation in the USA. By means of so-called "Power Purchase Agreements" (PPAs), the Provincial Electricity Authority (PEA) guarantees plant operators a fixed purchase price for solar power. The PPAs comprise the average electricity price plus an additional premium, the so-called "Adder". This "Adder" is currently set at 6.5 Thai Baht – which corresponds to around 16 Euro cents – and is guaranteed for 10 years. The power plant operator thus receives the total of the average grid electricity price and the "adder" by way of remuneration. There are also plans in Thailand for a feed-in tariff for roof-top plants, intended to provide a further boost to the generation of power from renewable sources.
About Conergy
Conergy delivers solar energy systems from a single source. As a system supplier, Conergy offers all components for a solar installation as well as all related services.
With its portfolio of modules, inverters and mounting systems, the solar expert creates Conergy System Technology, which is efficient solar energy systems for private or commercial rooftops, as well as for multi-Megawatt Parks.
Conergy System Services deliver a "Worry-Free Package" for Conergy solar installations – from "A" for architectural planning to "Y" for yield insurance and "Z" for zero trouble. Conergy's experts not only install on-site turn-key solar projects, but they also manage the planning and financing, project implementation, system monitoring, operation and on-going maintenance of the project for maximum performance. With this comprehensive technology and service package, Conergy offers yield insurance for its installations.
Conergy System Sales brings Conergy premium products to more than 40 countries. From "A" for Australia to "T" for Tunisia – the solar expert supports homeowners, installers, wholesalers and investors in their efforts to "go solar". With sales activities on five continents, Conergy has close relationships with all its customers. In 2011, around three quarters of Conergy's sales were generated outside of Germany.
Featured Product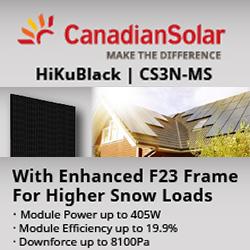 Aesthetic appearance for residential systems: With black backsheet & black frame, Power range 380 ~ 405 W, Low power loss in cell connection. Enhanced reliability: · Low temperature coefficient (Pmax): -0.34 % / °C, LID LeTID less than 2.0%, Lower hot spot temperature, Better shading tolerance.