ANTONIO CHIANTORE NEWME GENERAL MANAGER: "WE FOCUS ON INNOVATION AND SUSTAINABILITY".
Milan, 14 February, 2013 – Prysmian Group, world leader in the energy and telecom cables and

systems industry, will showcase state-of-the-art technologies at MEE 2013, the electrical industry's
largest show in the Middle East, taking place in Dubai from February 17 to 19, 2013 (booth C20,
Hall 7).
"Middle East Electricity 2013 comes at a very important time for the Prysmian Group to reinforce its
strong presence in the Middle East, a key area for the Company's expansion strategy, where the
Group is already carrying out several strategic power cable projects especially in the Extra High
Voltage underground and submarine cable systems market" states Antonio Chiantore, newly
appointed General Manager for the Group's Middle East branch based in Dubai.
The Group's product portfolio at MEE 2013 will focus on the full range of state-of-the-art power
cables including HV and EHV underground and submarine cable systems for applications such as
interconnections between power grids, links between natural or artificial islands and the mainland,
and connections to, or between, offshore oil production and wind power generation facilities.
These include the first-ever submarine power transmission link serving Doha and the GCC Saudi-
Bahrain submarine interconnection and the 400 kV power transmission system for TRANSCO
connecting the Bahia and Saadiyat Grid Stations in Abu Dhabi, which represents the largest 400 kV
underground cable system in the region (triple circuit route of 25 km for a total of 230 km of
extruded insulation cable) and the largest EHV XLPE cable system in the world (in terms of contract
value) ever awarded to a single supplier.
Prysmian Group will also be presenting a wide range of cables and systems for the Oil, Gas and
Petrochemical industry, including innovative specialties such as Drylam™ and Airguard™ Cable
System, FP® fire resistant cables, and power distribution cable solutions including P-Laser, the first
high performance eco-sustainable Medium Voltage cable for power distribution grids characterized
by an innovative production process and "zero-gas technology" that contributes to increase energy
efficiency and to reduce greenhouse gas emissions.
Prysmian Group
Prysmian Group is world leader in the energy and telecom cables and systems industry. With sales of some €8 billion in 2011, about
22,000 employees across 50 countries and 97 plants, the Group is strongly positioned in high-tech markets and provides the widest
range of products, services, technologies and know-how. In the Energy sector, Prysmian Group operates in the business of
underground and submarine power transmission cables and systems, special cables for applications in many different industrial
sectors and medium and low voltage cables for the construction and infrastructure industry. In the Telecom sector, the Group
manufactures cables and accessories for the voice, video and data transmission industry, offering a complete range of optical fibres,
optical and copper cables and connectivity systems. Prysmian is listed on the Milan Stock Exchange in the Blue Chip index.
Featured Product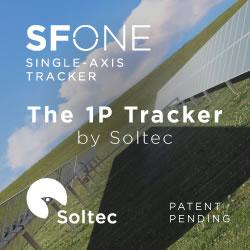 SFOne is the 1P single-axis tracker by Soltec. This tracker combines the mechanical simplicity with the extraordinary expertise of Soltec for more than 18 years. Specially designed for larger 72 an 78 cell modules, this tracker is self-powered thanks to its dedicated module, which results into a lower cost-operational power supply. The SFOne has a 5% less piles than standard competitor, what reduces a 75% the labor time.