New box receives CSA certification for integrated SmartModule Technology
Sidney, N.Y. February 18, 2013

Amphenol Industrial Global Operations, a global leader in interconnect systems, has incorporated Tigo Energy's PV optimizer technology into a new junction box, increasing power efficiency and eliminating the need for add-on products. The HBFMMJ-ES50, also known as the Tigo-Amphenol Optimizer, is the first in its class to receive CSA certification for integrated Smart Module technology.
Amphenol's new junction box incorporates Tigo Energy's optimizer directly onto the solar panel module fulfilling the growing demand for lower part count and easier installation of solar products. The integrated technology also increases energy harvest and system uptime, while providing better arc, fire and safety hazard mitigation.
Martin Booker, general manager of Amphenol Industrial Global Operations, said, "By joining efforts with Tigo Energy, Amphenol is able to provide customers with additional innovative ways to maximize PV system efficiency."
Sam Arditi, CEO of Tigo Energy, continues, "We have revolutionized DC power electronics by placing our technology into Amphenol's junction box. Customers can now have all the benefits of optimizers and micro inverters without the need for additional labor or equipment."
"Collectively, we have enabled customers with more options to easily and efficiently get the most from their solar products," commented Booker.
Used for residential, commercial and utility scale photovoltaic applications, the Optimizer maximizes power output of each solar panel module. It also delivers module level data for operational management and performance monitoring as well as provides the ability to deactivate a high voltage DC bus for safe installation, maintenance and firefighting.
The new junction box is certified to CSA-C22.2 No. 107.1-01 for general use power supplies and features 300 W of maximum power, 52 V of DC output and a maximum current input of 10 A.
Amphenol's connectors and junction boxes offer the highest voltage and current ratings in the PV market.
For more information, please visit http://www.amphenol-industrial.com or e-mail mfarrelly(at)amphenol-aio(dot)com.
Featured Product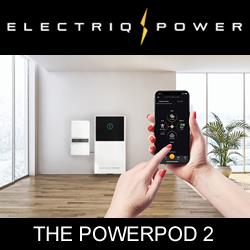 The Electriq PowerPod 2 is a fully-integrated home energy storage, management, and monitoring system powered by LFP batteries. The high-performance, cobalt-free product includes a hybrid solar/battery inverter controlled by intelligent software. The PowerPod 2 provides backup power and can self-consume or export excess power back to the grid.