Federal study sees PACE driving solar growth
A federally funded study published this week offers evidence that the innovative home-improvement financing option known as Property Assessed Clean Energy (PACE) has been "uniquely successful" as a driver of residential solar-power systems in California.

The analysis by researchers at Lawrence Berkeley National Laboratory (LBNL) covered the years 2010-2015, when residential PACE programs such as Renovate America's HERO financing were expanding rapidly across California. While previous studies demonstrated that early, regional PACE programs increased the deployment of residential solar photovoltaic (PV) systems, this new analysis is the first to demonstrate these impacts from HERO and other large, statewide residential PACE (R-PACE) programs.
"Our estimates imply that the majority of PV deployment financed by R-PACE programs would likely not have occurred in the absence of the programs," researchers Jeffrey Deasonand Sean Murphy wrote. "These results suggest that R-PACE programs have increased PV deployment in California even in relatively recent years, as R-PACE programs have grown in market share and as alternate approaches for financing solar PV have developed."
PACE programs like HERO empower homeowners to make energy and efficiency improvements to their homes and pay for them over time at a competitive, fixed interest rate through an additional, voluntary assessment on their property taxes.
"PACE was designed to encourage the adoption of more clean-energy technologies, and it's encouraging to see evidence that these programs are really moving the needle when it comes to driving deployment of distributed solar PV and empowering homeowners to go solar," said Renovate America CEO Roy Guthrie.
Since it launched in late 2011, HERO has financed the deployment of over 183 megawatts of residential solar capacity across over 30,000 homes – more than any other PACE provider. That's equivalent to almost 5% of the total residential solar PV capacity installed across the territory covered by the three California investor-owned utilities (SDGE, PG&E, SCE). To put it another way, HERO has financed the installation of more PV capacity than exists in the following 14 states, combined (as reported by SEIA as of March 2018): Alaska, Arkansas, Kansas, Kentucky, Maine, Montana, Nebraska, Oklahoma, both Dakotas, Rhode Island, West Virginia and Wyoming.
The LBNL analysis, which was funded by the U.S. Department of Energy's Office of Energy Efficiency and Renewable Energy – Building Technologies Office, noted that California's residential PACE programs are worth studying because they have in many respects been "uniquely successful" among energy-efficiency and solar PV financing programs. California is the nation's largest market for PACE financing.
The researchers also noted that California has identified PACE as one of the tools that will help it meet the energy-efficiency targets laid out in Senate Bill 350, the 2015 law that calls for the state to double energy-efficiency savings by 2050. They added that several states are considering an increasing focus on financing programs like PACE as opposed to utility rebates to drive deployment of energy efficiency.
The full LBNL study is available at: http://eta-publications.lbl.gov/sites/default/files/berkeley_lab_r-pace_pv_deployment_-_final_03202018.pdf
About Renovate America
Renovate America offers a tech-enabled financing platform for home improvements that empowers communities to modernize and make their housing stock more efficient, while giving small businesses the tools they need to grow. In addition to financing home improvements through an unsecured lending product, Benji, Renovate America offers communities HERO financing. HERO is the leading residential Property Assessed Clean Energy (PACE) program in the U.S. and has been used by the owners of over 115,000 homes to make energy and efficiency improvements. It is estimated that HERO is on track to save billions of dollars in energy and water bills, and has created over 25,000 local trade jobs that cannot be offshored or automated. Renovate America has built the world's largest green bond platform, with a volume of originations that enables securitization of HERO PACE bonds multiple times a year, attracting international investment to meet U.S. clean-energy objectives.
Comments (0)
This post does not have any comments. Be the first to leave a comment below.
---
Post A Comment
You must be logged in before you can post a comment. Login now.
Featured Product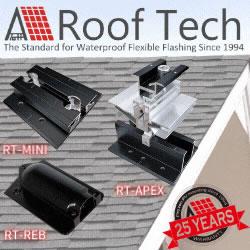 Now Roof Tech brings you the most innovative, watertight mounting systems ever developed for solar photovoltaic systems. Designed and manufactured exclusively for us by Japan's longtime leader in roofing technologies, Roof Tech products are 100% code-compliant and offer fast, simple installation and huge savings on shipping costs due to their compact, rail-less design. Learn more about our full line of versatile PV mounting solutions now available for residential installations. The next generation in rooftop solar mounting solutions."