"This is the first completed transaction in DayStar's strategy to acquire fully operational projects."
KELOWNA, British Columbia, Feb. 15, 2013 -- DayStar

Technologies, Inc. (Nasdaq:DSTI) announces completion of its first
acquisition from Avatar Solar of a Hawaiian solar park. The Company's
agreement with Avatar is to acquire all its operational solar parks
throughout the State of Hawaii. DayStar paid cash and common shares issued
at $2.00 for this solar park.
Lorne Roseborough, DayStar's President, stated, "This is the first completed
transaction in DayStar's strategy to acquire fully operational projects. We
are looking at geographical regions where we plan to expand services to
build and operate projects as a solar power provider, very similar to
companies like SolarCity. The big difference is that DayStar is actively
looking to own and operate projects long-term, and has plans to change how
renewable energy is provided long-term with our investment in Premier
Global.
About DayStar Technologies Inc.
DayStar Technologies, Inc. (DSTI) is a developer of solar photovoltaic
products and has assembled a world-class team of project engineers, and
industry finance professionals, to facilitate the complete development of
renewable energy projects throughout the world. DayStar is currently
embarking on a strategy of strategic partnerships to enter new markets
within the global renewal energy industry including ownership and
construction of solar and renewable power plants. For more information,
visit the DayStar website at http://www.daystartech.com/.
Featured Product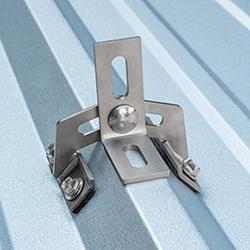 Error-Proof Compression: The QB2 doesn't leave any room for user error when it comes to Microflashing® compression. Once the Dual Drive Shoulder Screw is secured, the Microflashing® is compressed. Only 3 Components: The QB2 is comprised of Microflashing®, an L-foot and a Dual Drive Shoulder Screw. No more Nuts needed to tighten and secure the L-foot! Not only does this simplify the installation process, it also cuts down the installation time.