Researchers at CSP Today have completed work on a guide focused on CSP's current and potential future role in the US Energy Mix.
Hours of research has resulted in the general release of this resource, which provides data, information and interviews on how CSP and its storage technology can benefit the US energy mix, and also help utilities and grid operators overcome PV and wind intermittency.

Furthermore, this guide will provide an introduction to the current thermal energy storage technologies commercially operating in plants, and examines the opportunity to reduce costs for years to come.
In a recent interview Jack Ahearne, the lead researcher at CSP Today, said that "there are a number of compelling reasons why it makes sense for the US to pursue leadership in the development of CSP". Adding that "the new CSP Today guide puts these reasons into context by highlighting the unique benefits that CSP can offer the US energy market for years to come".
The guide is free to download, and can be found here:
http://www.csptoday.com/usa/content2.php
For more information about the guide contact Jack Ahearne by email: jack@csptoday.com
Featured Product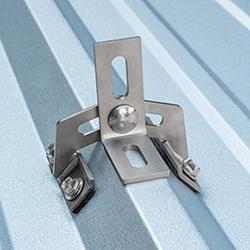 Error-Proof Compression: The QB2 doesn't leave any room for user error when it comes to Microflashing® compression. Once the Dual Drive Shoulder Screw is secured, the Microflashing® is compressed. Only 3 Components: The QB2 is comprised of Microflashing®, an L-foot and a Dual Drive Shoulder Screw. No more Nuts needed to tighten and secure the L-foot! Not only does this simplify the installation process, it also cuts down the installation time.