The Solar EZ Connect system was developed in collaboration with developers and installation contractors. The system is comprised of a fully wired harness that is ready to be installed right out of the box. This substantially reduces the high costs associated with hand assembly and routing of wiring in the field. The multiple strings of multi-panel arrays are easily assembled and run to the combiner boxes eliminating the need for certified labour.
Designed to Specifications

Solar EZ Connect is designed and manufactured to the specifications of every project layout with no limit to the size or configuration. The system is comprised of specialized wire protection products that offer flexibility, durability, and watertight construction with high resistance to UV exposure and weathering as well as damage from rodents. The system utilizes industry standard solar cable connectors for interconnection to the mating input/output cable connectors from each multi-panel string.Quick and Simple Mounting
The pre-engineered Solar EZ Connect solution is simply laid out along the entire length of each row of panels and is quickly and easily mounted using only hand tools to secure the provided brackets. The brackets are available for any number of frame or flat surface configurations commonly used in array support structures. Once mounted, the input and output connectors are mated to the string connectors and the job is done!Time savings ? Up to 80%
The Solar EZ Connect produces a very clean and trim installation, providing time savings of as much as 80% when compared to traditional "Build-in-Place" methods. With the Moltec system, the procurement of a large list of materials, handling and processing of wire, installing connectors, cutting and bending conduits, j-box installations, installation of fittings, and mounting with a number of various brackets and related hardware is not necessary. The plug and play design gets you on the grid in a fraction of the time of traditional methods, sometimes days ahead of schedule which allows you to generate revenue sooner.
Certifications
The Moltec system is constructed with UL approved, UR Recognized, and CSA certified electrical components. Every system is electrically and mechanically tested in the company's certified facility to ensure the highest level of quality, installation success, and operational performance available. Wiring errors in the field and the high cost associated with re-work and project start-up delays are virtually eliminated
Moltec International conducted a customer survey on a full service turnkey solar provider in Ontario, Canada.
Question 1) What is the size of the solar panel systems in kW's that you recently had us work on?
Customer Answer: Approximately 500 kW's.
Question 2) Overall what is the impression of the final product delivered?
Answer: With the first installation, product was delivered as specified, excellent overall appearance. We noticed later that the wire harnesses started to sag so we decided to request clips to be installed every two feet in the future. I was very satisfied with the overall appearance of the products delivered. We like to work in a modular world, plug and play and this product fits perfectly into our business model.
Question 3) What is the estimate percentage that you saved in the installation time using our wiring system?
Customer Answer: I would estimate depending on the size of project, anywhere between 5 to 7 days.
Question 4) What is the estimate in percentage that you saved in the wiring labor costs?
Customer Answer: At least 50%. The electricians I noticed take longer when wiring is involved. They seem to take longer with wiring issues. With human intervention, mistakes occur, to avoid mistakes, I prefer to use the wiring systems that you provide, and this also minimizes down-time that always occurs in these projects.
Question 5) What can we improve upon in the future, to assist you in solar installation projects?
Customer Answer: Two key important phrases, Integration ease of installation of the wire harness systems, and reliability. It is so important for Moltec's engineering to work with us, provide suggestions as well and to provide solutions that work with our business model, quick modular, plug and play, connect systems that are reliable! This industry is small and you have to maintain high quality standards.
We were informed recently that a certain electrical company installing solar panels at a large multinational retailer have shut down their solar division, due to use of sub level components, such as PVC tubing, cheap connectors. Long story short, reverse polarity occurred in the combiner box and the roof started to catch on fire. Reputation in this industry is very important!
With Moltec's support in providing easy connect wiring harness systems that are reliable is most important. With many of these large scale projects in the future, we do not want to go back and repair and fix mistakes caused by our installers, because it costs us money and time, and reduces the reliability of the overall performance of the solar installation.
Question 6) How is your company positioned in the future in the solar industry?
Answer: Within the next two years we have a number of projects in the pipe line, solar projects from 12 to 15 Megawatts. We are putting our resources in marketing and fostering relationships with solar developers, providing complete turnkey services, procurement of reliable products and installation services.
Featured Product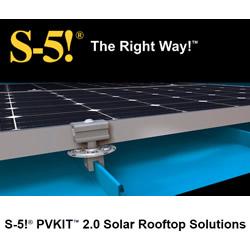 The concept of combining PV arrays with standing seam metal roofing is growing-for good reasons. Metal roofs have a life expectancy of more than 40 years. Shouldn't the mounting system last as long? With S-5! zero-penetration attachment technology and PVKIT 2.0, the solarized metal roof is the most sustainable system available -and without compromising roof warranties! PVKIT 2.0 is the also the best solution for attaching PV modules directly to any exposed fastener metal roof.