The enhanced online selection tool enables engineers to compare device performance to select the optimal IGBT for their design even more quickly and easily.
EL SEGUNDO, Calif.--International Rectifier, IR® (NYSE: IRF), a world leader in power management technology, today announced the enhancement of its Insulated Gate Bipolar Transistor (IGBT) selection tool that enables design optimization in a wide range of applications including motor drives, uninterruptable power supplies (UPS), solar inverters, and welding.

IR's enhanced IGBT selection tool evaluates application conditions including bus voltage, load current, switching frequency, short-circuit requirements, package and thermal system. New features include customizable thermal constraint setting and Current vs. Frequency output chart that conveniently compare devices over a range of operating conditions.
Located at http://mypower.irf.com/IGBT, the IGBT selection tool returns a shortlist of products that meet or exceed the application parameters entered by the user. The products are ranked by performance with losses and junction temperature for the specified operating condition to help facilitate the selection process.
"IR offers a broad array of IGBT products enabling optimized inverter designs for different applications. The enhanced online selection tool enables engineers to compare device performance to select the optimal IGBT for their design even more quickly and easily," said Llewellyn Vaughan-Edmunds, IGBT Product Marketing Manager, IR's Energy Saving Products Business Unit.
IGBT selection requires evaluation of many parameters that cannot be simplified into a single metric, as switching losses can be traded for conduction losses. To address this problem, IR's product selection tool generates a Current vs. Frequency graph that provides a powerful indication of the relative performance of different IGBTs. With this information the designer can select the most cost-effective IGBT for the application.
More information is available on the International Rectifier website at http://www.irf.com/whats-new/nr130307.html.
About International Rectifier
International Rectifier (NYSE:IRF) is a world leader in power management technology. IR's analog and mixed signal ICs, advanced circuit devices, integrated power systems and components enable high performance computing and reduce energy waste from motors, the world's single largest consumer of electricity. Leading manufacturers of computers, energy efficient appliances, lighting, automobiles, satellites, aircraft and defense systems rely on IR's power management benchmarks to power their next generation products. For more information, go to www.irf.com.
Featured Product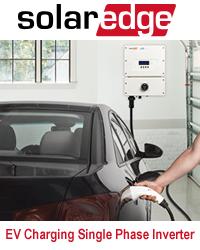 The SolarEdge PV inverter combines sophisticated digital control technology with efficient power conversion architecture to achieve superior solar power harvesting and best-in-class reliability. The fixed-voltage technology ensures the solar inverter is always working at its optimal input voltage over a wider range of string lengths and regardless of environmental conditions. A proprietary data monitoring receiver has been integrated into the inverter and aggregates the power optimizer performance data from each PV module. This data can be transmitted to the web and accessed via the SolarEdge Monitoring Portal for performance analysis, fault detection and troubleshooting of PV systems.