PV Equipment Manufacturer to Increase Capacity for Glass-to-Glass and Bi Facial Solar Panels
LAKE MARY, FL., March 11, 2013 – Advanced Solar Photonics, LLC (ASP), a leading manufacturer of photovoltaic (PV) equipment and provider of turnkey alternative energy systems, announced today that it is focusing its production capacity on highly engineered photovoltaic (PV) modules and customized PV applications using glass-to-glass (G2G) and bifacial cell technology.

These specialty PV products include bifacial and glass-to glass modules in a 60 cell configurations in both framed and frameless models. These products are designed for a variety of building integrated photovoltaic applications. (BIPV).
G2G architecture provides dual sided protection of silicon materials from extreme weather conditions. Thinner glass ensures less heat, thermal stability, resistance to impact and elimination of micro fractures. G2G modules are expected to have a usable lifetime of 50 years without danger of mechanical damage or temperature and humidity-related delamination of the back sheet. The glass-to-glass lamination method with no multi-layer back sheet also reduces fire hazard and lessens the probability of mechanical damage over the lifetime of the module.
The bifacial dual sided glass module (G2G) generates more electricity by converting direct, radiant and scattered solar energy on both the front and the back side of the module. The thinner tempered glass means the light does not travel as far, increasing overall module efficiency by 10%. ASP bifacial G2G modules also have a low temperature coefficient, which allows them to produce more electricity than conventional crystalline silicon solar modules at the same temperature. Together these features can result in energy output as much as 30% higher than conventional technology.
This breakthrough PV product is made up of 60 bifacial crystalline silicon cells with up to 20.5% module efficiency on both sides. The total rated power output of the panel will range from 283 Watts to 333 Watts. Bifacial modules are ideally suited for applications with limited ground space such as military bases, municipalities, and schools. In addition, modern rooftop designs using reflective materials for cooling would maximize the harvesting from that enhanced reflectivity.
Another highly engineered specialty product launched in 2013 is the company's Integrated Solar Array product (ISA.) This new PV architecture is designed to reduce the costs of balance of systems (BOS) and solar panels. An ISA fully integrates PV modules into the mounting structure thereby eliminating the aluminum frame, grounding wire, clips, and nuts and bolts.
Featured Product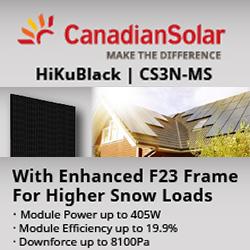 Aesthetic appearance for residential systems: With black backsheet & black frame, Power range 380 ~ 405 W, Low power loss in cell connection. Enhanced reliability: · Low temperature coefficient (Pmax): -0.34 % / °C, LID LeTID less than 2.0%, Lower hot spot temperature, Better shading tolerance.