Favorable legislation mandating energy conservation increase opportunities for LED manufacturers
MOUNTAIN VIEW, Calif. – March 13, 2013 – Lighting accounts for nearly 15 percent of the energy consumed in the U.S. building sector, compelling building owners to seek more energy efficient lighting systems. This places the spotlight on light emitting diode (LED) lighting due to its reasonable cost, technology improvements and long life.

New analysis from Frost & Sullivan's (http://www.buildingtechnologies.frost.com) Analysis of the North American LED Lighting Market research finds the market earned revenue of $1.15 billion in 2012 and estimates this to reach $3.63 billion in 2017. The market is primarily segmented into indoor and outdoor LED lighting.
For more information on this research, please email Britni Myers, Corporate Communications, at britni.myers@frost.com, with your full name, company name, job title, telephone number, company email address, company website, city, state and country.
"The need to conserve energy by upgrading older systems to LED lighting is a key driver for the market," said Frost & Sullivan Energy and Environment Industry Analyst Alejandra Lozano. "In particular, we find there is higher adoption of energy efficient lighting in the outdoor segment due to government funding for lighting upgrades in exterior applications."
The North American LED lighting market will also get a leg up from supportive legislation, such as the Energy Policy Act of 2005 and Energy Independence and Security Act of 2007, which mandates greater energy efficiency of general service incandescent lamps. The legislation also hastens the market introduction of efficient and high performing solid-state lighting (SSL) products, including LED lighting.
However, despite the thrust from the government, the higher initial costs of LED lighting products compared to that of competing technologies restrain their adoption. The economic downturn of the last few years has made end users particularly prudent as they demand cost effective systems that also offer energy savings.
Although the operating costs of an LED lighting system are low, the capital expenditure of LED lighting products is often prohibitive to end users that do not have a clear vision of the short- to medium-term return on investment from energy savings. The technology will experience wider uptake as ongoing research helps lower costs of production, making LED lighting more affordable.
"Educating customers about the lifecycle cost benefits of installing an LED lighting system and demonstrating the energy savings that are achievable with these systems are vital to market success," concluded Lozano.
Analysis of the North American LED Lighting Market is part of the Energy and Environment Growth Partnership Service program, which also includes: Analysis of the North American Lighting Equipment Market, World LED Lighting Markets, and European Energy-efficient Lighting Market. All research services included in subscriptions provide detailed market opportunities and industry trends evaluated following extensive interviews with market participants.
Connect with Frost & Sullivan on social media, including Twitter, Facebook, SlideShare, and LinkedIn, for the latest news and updates.
About Frost & Sullivan
Frost & Sullivan, the Growth Partnership Company, works in collaboration with clients to leverage visionary innovation that addresses the global challenges and related growth opportunities that will make or break today's market participants.
Our "Growth Partnership" supports clients by addressing these opportunities and incorporating two key elements driving visionary innovation: The Integrated Value Proposition and The Partnership Infrastructure.
• The Integrated Value Proposition provides support to our clients throughout all phases of their journey to visionary innovation including: research, analysis, strategy, vision, innovation and implementation.
• The Partnership Infrastructure is entirely unique as it constructs the foundation upon which visionary innovation becomes possible. This includes our 360 degree research, comprehensive industry coverage, career best practices as well as our global footprint of more than 40 offices.
For more than 50 years, we have been developing growth strategies for the global 1000, emerging businesses, the public sector and the investment community. Is your organization prepared for the next profound wave of industry convergence, disruptive technologies, increasing competitive intensity, Mega Trends, breakthrough best practices, changing customer dynamics and emerging economies?
Contact Us: Start the discussion
Join Us: Join our community
Subscribe: Newsletter on "the next big thing"
Register: Gain access to visionary innovation
Analysis of the North American LED Lighting Market
NAF2-19
Contact:
Britni Myers
Corporate Communications – North America
P: 210.477.8481
F: 210.348.1003
E: britni.myers@frost.com
Twitter: @Frost_Sullivan
Facebook: Frost & Sullivan
http://www.frost.com
Featured Product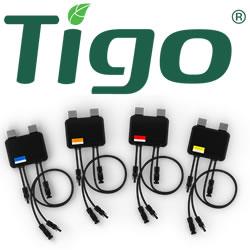 Tigo will announce the new product launch of the patented UHD-Core TS4-A (Advanced Retrofit/Add-on) Platform at SPI 2019. The new TS4-A-M (Monitoring) & TS4-A-S (Safety) units have improved lightweight hardware and lower labor costs to address a range of functions and budgets. The TS4-A-M allows module-level monitoring via Tigo's SMART Website & App. The TS4-A-S is UL-certified as a rapid shutdown solution for residential and C&I PV system. Both units join the Tigo's multivendor solution that works with almost any inverter and smart module in the global PV market. Contact sales@tigoenergy.com for pricing, shipping, and availability in Q4'19.