Sunmodule Protect solar panel guarantees exceptional energy yield over extended service life
HILLSBORO, Ore., March 13, 2013 – SolarWorld, the largest U.S. solar manufacturer for more than 35 years, today introduced its Sunmodule Protect glass-glass solar panel. No heavier than a standard glass-film panel, the innovative new product is protected by one of the industry's highest-value performance guarantees.

In Sunmodule Protect solar panels, SolarWorld substitutes a panel's conventional backsheet with lightweight glass to better shield energy-producing solar cells from the elements. This advance enables SolarWorld to extend its linear performance guarantee to 30 years, up from 25 years, offering only 0.35 percentage points in lower performance protection over each of the 30 years – one of the best performance guarantees available in the world solar market. Sunmodule Protect solar panels debut in the second half of 2013 through SolarWorld's network of preferred distributors and authorized installers.
"SolarWorld has advanced the cutting edge of solar-technology innovation for decades, and Sunmodule Protect's launch is the latest milestone in that storied history," said Gordon Brinser, president of SolarWorld Industries America Inc., based in Hillsboro, Ore. "We offered the first 25-year step guarantee in 1997 and the first 25-year linear guarantee in 2009. This year, we will offer the first glass-glass solar panel coupled with an industry-leading performance guarantee."
Sunmodule Protect solar panels are guaranteed to provide 86.85 percent of their nameplate performance after 30 years of operation. With an annual reduction in power protection of just 0.35 percentage points, Sunmodule Protect provides substantial, long-term performance advantages over panels containing polymer-based backsheets. As a result, the product's energy-yield-over-service-life ratio substantially exceeds that of conventional glass-film panels.
Sandwiched between glass on both front and back, solar cells are optimally protected against environmental factors such as water intrusion. Cells also are less susceptible to shear stress, thereby reducing cell breakage. Even with a second pane of glass, Sunmodule Protect solar panels remain lightweight – at about 46 pounds, comparable to glass-film panels. In addition, they include the same sturdy aluminum frame used in Sunmodule Plus glass-film panels. Therefore, the new product will work with all mounting systems approved for use with the Sunmodule Plus product line.
About SolarWorld
SolarWorld AG manufactures solar power systems and in doing so contributes to a cleaner energy supply worldwide. The company, located in Bonn, employs approximately 2,600 people and carries out production in Freiberg, Germany, and Hillsboro, USA. From raw material silicon to the solar module, SolarWorld manages all stages of production ‒ including its own research and development. Through an international distribution network, SolarWorld supplies customers all over the world with solar modules and complete systems. The company maintains high social standards at all locations across the globe, and has committed itself to resource- and energy-efficient production. SolarWorld has been publically traded on the stock market since 1999. More information at www.solarworld-usa.com
Featured Product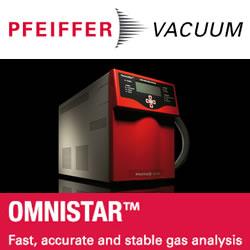 The Pfeiffer Vacuum OmniStar benchtop analysis system offers you a compact footprint, powerful software and Ethernet connectivity. It's the optimum solution for many real-time gas analysis applications. With the OmniStar, Pfeiffer Vacuum offers you a complete solution for gas analysis, in chemical processes, semiconductor industry, metallurgy, fermentation, catalysis, laser technology and environmental analysis. The turnkey OmniStar gas analysis system consists of heated, temperature-regulated gas inlet system, Quadrupole mass spectrometer, a dry diaphragm vacuum pump and HiPace turbopump. Unlike competing methods such as FTIR, OmniStar is suitable for qualitative and quantitative analysis of most gases.