LEARN HOW SMART HOME OWNERS ARE SAVING MONEY, SLASHING ENERGY COSTS AND GETTING BIG TAX CREDITS BY GOING SOLAR. TAKE THE FREE SAN ANTONIO SOLAR TOUR, ON SATURDAY, APRIL 13, 2013
The event, scheduled for Saturday, April 13, 2013 from 10am to 3pm, is a FREE self-guided tour that showcases the solar technologies your neighbors are using to 1) significantly reduce monthly energy bills, 2) reduce harmful carbon emissions, and 3) enjoy tax credits and solar rebates as they improve their property values.

"As we watch extreme weather events causing widespread destruction, we increasingly appreciate that San Antonio is a national leader in solar. In addition, the economic development, cleaner air, reduced energy bills, reduced taxes, and other benefits of solar improve our quality of life," said Lanny Sinkin, Executive Director, Solar San Antonio.
On April 13, 2013, Solar San Antonio will hold open house tours of 18 homes and businesses in the greater San Antonio area. These 18 homes and businesses represent installations from 15 different solar companies. The 15 solar companies selected their best sites to show off their work to the public. The solar installers, and homeowners / business owners will be at each site to answer any questions the tour goers may have.
Many homeowners that could not previously go solar due to their HOA can now join the 800 other San Antonian's that have installed solar. In May 2011, there was a bill passed that prohibits a HOA from including or enforcing a provision in its dedicatory instruments that prohibits or restricts a homeowner from installing a solar energy device.
A printable tour guide, along with a map and location descriptions can be found at http://www.solartoursa.com/
ABOUT SOLAR SAN ANTONIO:
Solar San Antonio is a cutting edge non-profit 501(c)(3) organization making solar energy a major contributor to the creation of the new energy economy. Solar San Antonio encourages the greater deployment of solar as one response to the threats posed by climate change. Solar San Antonio connects the private and public sectors through education, innovative marketing, and creative financing programs. Solar San Antonio provides direct assistance to homeowners and businesses ready to "go solar."
Featured Product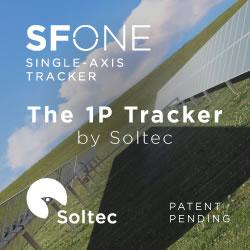 Soltec manufactures and supplies solar trackers designed and proven for extreme climate conditions, which is an ideal solution for any region's environment. Soltec's trackers are self-powered, requiring no additional PV module or grid-powered connection. Bifacial modules collect energy on both the front and rear sides, capturing reflected irradiance from the ground surface under and around the tracker and from other modules. Depending on site conditions, bifacial yield-gain can reach +30 percent.