Baker Electric Solar's new checklist is designed to educate the consumer on the information they should verify when they obtain estimates for their potential solar project. The downloadable document contains helpful questions, guidelines and tips.
Escondido, Calif. April 04, 2013

Baker Electric Solar, a full-service solar integrator specializing in green technology design / build residential solar and commercial solar installations, is pleased to announce it is providing a Checklist for Choosing a Solar Energy Company. The comprehensive checklist includes guidelines for selecting a solar energy / photovoltaic (PV) company. The document is available as a complimentary download from the Baker Electric Solar website.
The Checklist for Choosing a Solar Energy Company includes important guidelines for both homeowners and building owners to use in the process of selecting a reputable solar company for their solar project. The questions compiled in the eight-page checklist help consumers identify companies who have experience, quality solar products and demonstrate financial strength and longevity.
Solar is a relatively new industry. Consumers do not have an established frame of reference to evaluate solar projects. Baker Electric Solar saw a need to help educate people on what to look for in choosing a solar energy company. The checklist is divided into three sections. The opening section covers "4 Fast 'Getting Started' Tips." The second section presents 25 in-depth questions to ask prospective solar companies. The third section, titled "My Notes," includes 36 points to use to compare two companies. The checklist provides a way to rate solar energy dealers / installers on their history, reputation, pricing, efficiency, products, service options, and warranties.
In addition to questions about a company's licenses and experience in the industry, the checklist goes into areas a homeowner might not even know to ask, such as:
*Does the company do all of the work — sale and installation or do they subcontract the installation?
*How does the company protect the roof during installation?
*Will the company provide proof of liability and workers compensation insurance as well as proof of employment of the installers on site?
*Does the company keep an inventory of solar panels, inverters, racks in their warehouse?
*Will the company service the system and fulfill their workmanship warranty?
*Does the company have free technical or follow-up support?
*Does the company offer financing options, such as leasing?
*Does the company have a design / consultation team to help determine the optimal solar installation for the home or building's location?
"Baker Electric Solar is committed to providing consumer education about how to get started 'going solar.' Our new comprehensive checklist is perfect for people who have decided to look into solar," said Andrew Berlin, BES Residential Sales Manager. "At Baker we advise our customers to interview at least two solar companies. Solar is a 20 to 40-year investment, you want to make sure the company you choose is a perfect fit for your energy needs today and tomorrow."
The new Checklist for Choosing a Solar Energy Company may be downloaded from the Baker Electric Solar website at http://www.bakerelectricsolar.com/solar-company-checklist.htm
About Baker Electric Solar (BES)
Escondido-based NB Baker Electric, Inc., dba Baker Electric Solar, designs, builds and installs photovoltaic solar power systems for new and existing homes and commercial facilities across Southern California. Baker Electric Solar offers a zero-down, fixed monthly payment lease option. BES is a 2012 Inc. 500|5000 company and one of San Diego's 2012 Fastest Growing Private Companies. In addition, BES is San Diego's first SunPower Elite Dealer and 2011 SunPower Regional Residential Dealer of the Year. For more information, visit http://www.bakerelectricsolar.com.
Featured Product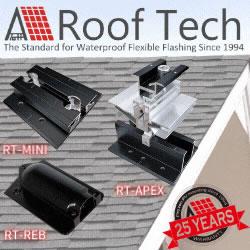 Now Roof Tech brings you the most innovative, watertight mounting systems ever developed for solar photovoltaic systems. Designed and manufactured exclusively for us by Japan's longtime leader in roofing technologies, Roof Tech products are 100% code-compliant and offer fast, simple installation and huge savings on shipping costs due to their compact, rail-less design. Learn more about our full line of versatile PV mounting solutions now available for residential installations. The next generation in rooftop solar mounting solutions."