With more than 14,000 technology opportunities, including profiles in wind energy, biomass, solar energy, alternative energy and more, Enterprise Europe Network is the best kept secret in knowledge transfer in your sector. And it's free.
For companies and researchers based in Europe, the government-funded initiative Enterprise Europe Network is a must.

The service covers all sectors, including solar energy, alternative energy, biomass, wind energy and more. The main service is providing access to an online database of 14,000+ opportunities, including European companies seeking licensing partners, manufacturing partners, co-development partners, research and development partners and partners to join consortia to apply for European funding.
If you are a company hoping to engage with European partners but don't know where to start, your first port of call should be Partner Finder database (http://www.enterpriseeurope-se.eu/xse/services/tech_search.asp?ContentID=034&BackTo=0&savemsg=&CustomMessage=).
Keyword searches will take you to a vast array of opportunities and we've listed a sample below:
New device to improve domestic solar water heater (13 FR 33k1 3S2P)
To ensure a continuous and better use of solar energy, a French company has introduced a second tapping point below the electric extra heating of conventional and domestic solar water heater. Licence agreement with technical assistance is proposed to an industrial who is looking for new devices for individual solar water heater market. Adaptation to specific needs is possible.
For more visit: http://www.enterpriseeurope-se.eu/xse/services/enquire.asp?id=13%20FR%2033k1%203S2P&EnquiryType=BBS
Innovative method for locating areas with high wind energy concentration in the lower atmosphere, stable over space and time and economically approachable (12 IL 80ER 3R6Y)
An Israeli startup has developed a propriety method for locating energy concentrations in heights of 100-200 meters, which are stable both in time and space. Their method allows deployment of existing wind turbines, while providing greater output energy at much lower cost. The company is looking for technical co operations, commercial agreement with technical assistance, manufacturing and joint venture agreements.
For more visit: http://www.enterpriseeurope-se.eu/xse/services/enquire.asp?id=12%20IL%2080ER%203R6Y&EnquiryType=BBS
PS FP7 ICT Call 11: Sunflower cloud (13 IT 55X5 3S92)
An Italian company is looking for partners for an FP7 ICT-2013.6.1 Smart Energy Grids grant application (Call deadline 16 April 2013).
The aim of the project is to develop a new approach to green computing maximizing the energy efficiency and the environmental sustainability of cloud computing. A partner, preferably not from Italy, as energy supplier is sought.
For more visit: http://www.enterpriseeurope-se.eu/xse/services/enquire.asp?id=13%20IT%2055X5%203S92&EnquiryType=FP7
Novel, efficient and simple cogeneration plant utilizing biomass or waste materials (13 IT 54V7 3S4I)
An Italian company has developed a novel type of cogeneration plant, capable to utilize no cost materials or waste, to produce power and heat (or cold), with high yield, very low emissions or 0 emission , made up of very common equipment, simple assembling, skid mounted. The cost of the produced power is very low and, by using waste, even negative. The company is looking for a strong financial and/or industrial and commercial partner, to develop manufacturing and sales all over the world.
For more visit: http://www.enterpriseeurope-se.eu/xse/services/enquire.asp?id=13%20IT%2054V7%203S4I&EnquiryType=BBS
To find out more about how you can post your own profile, respond to existing opportunities or sign up to tailored email alerts for profiles in your sector, email Tim at t.benzie@greenwich.ac.uk.
Featured Product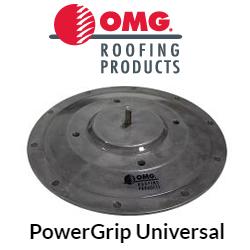 Eliminate Solar Rack Ballast and Reduce Rooftop Material Handling. PowerGrip™ Universal (PGU) is a commercial roof mount system designed to secure solar racks and other equipment to any type of commercial roofing system. PGU provides a secure connection directly to the roof deck or structural members and is designed to reduce or eliminate ballast in solar racking systems, so there's less weight on the roof and less material handling. Made of heavy-duty cast aluminum, PGU units include a base ring which is secured through the roofing cover and into the structural roof deck, and a waterproof top plate.