Releases New Clean Energy Abundance Video and Solar Project with Est. 4.5%* Return
OAKLAND, CA -- (April 8, 2013) Mosaic, an online marketplace that connects investors to high-quality solar projects, just received approval from securities regulators to offer $100 Million worth of solar investments to residents of California. In celebration, Mosaic is releasing a new video at http://bit.ly/10gNb41 and launching the first of a series of solar projects that will be available for investment by California residents.

"California has always been a leader in solar energy. We're thrilled that now any resident of California can invest directly into solar energy for as little as $25," said Billy Parish, President & Co-founder of Mosaic.
As one San Francisco-based investor Rosana Francescato said, "Mosaic is enabling people like me to benefit from solar power while providing a good return on investment-- an opportunity previously only available to major investors and banks. I invested in several projects, the process was easy and it only took a few minutes."
In January, Mosaic launched their first return on investment solar projects to the public, selling out all three in less than 24 hours with over $300,000 invested. Since then, Mosaic has partnered with Standard & Poor's, DuPont and Distributed Sun, among others, as part of the truSolar™ working group to increase the efficiency with which projects can be evaluated in order to maintain high-quality standards while reducing the time that it takes to bring solar projects to investors.
About Mosaic
Mosaic is an online marketplace that connects investors to high-quality solar projects. Mosaic's mission is to open up clean energy investing to the public and fundamentally change the way energy is financed. To date, Mosaic has raised over $1.1M from more than 1,000 investors to finance twelve rooftop solar power plants in California, Arizona and New Jersey. For more information about Mosaic visit www.joinmosaic.com.
*Please visit joinmosaic.com to learn more about the projects and to access the offering memoranda, which discuss the projects, the terms of the investment and the risks associated with this investment.
Featured Product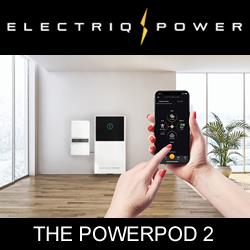 The Electriq PowerPod 2 is a fully-integrated home energy storage, management, and monitoring system powered by LFP batteries. The high-performance, cobalt-free product includes a hybrid solar/battery inverter controlled by intelligent software. The PowerPod 2 provides backup power and can self-consume or export excess power back to the grid.