"America's solar industry welcomes President Obama's continued support. We praise the President for emphasizing that a transition to sustainable energy sources is vital—and that the U.S. must lead it. Solar is the fastest-growing clean energy technology available today." -Rhone Resch, CEO, SEIA
SEIA Statement on President Obama's Fiscal Year 2014 Budget
WASHINGTON, DC – Responding to President Obama's just-released Fiscal Year (FY) 2014 budget, Rhone Resch, president and CEO of the Solar Energy Industries Association (SEIA), said, "America's solar industry welcomes President Obama's continued support. We praise the President for emphasizing that a transition to sustainable energy sources is vital—and that the U.S. must lead it. Solar is the fastest-growing clean energy technology available today. It is not only powering our nation, it is an engine of economic growth. The number of U.S. solar jobs has jumped 13.2 percent in the last year alone, and doubled over the last three years.
"Since 2008, the amount of solar powering U.S. homes, businesses and military bases has grown by more than 600 percent—from 1,100 megawatts to more than 7,700 megawatts today. Over the next four years, solar will grow to be our nation's largest new source of energy.
"We are tremendously grateful to the President for his leadership and efforts in bringing about increased renewable energy deployment, and we urge Congress to work with the Administration to pass and implement sensible energy policy.
"SEIA also encourages the President and Congress to make accelerated renewable energy adoption goals a reality. A critically-important step in that direction is maintaining the Investment Tax Credit that has helped U.S. consumers and businesses access solar at a much lower cost, by allowing solar to compete more fairly with other energy sources. We are also calling on the government to streamline federal solar permitting processes as an important way to help reduce our nation's dangerous dependence on foreign energy supplies, and we urge federal agencies to lead by example by increasing their use of solar."
More Resources:
- "SEIA Statement on President Obama's FY 2013 budget," February 13, 2012:
http://www.seia.org/news/seia-statement-president-obamas-fy2013-budget-request
About SEIA®:
Established in 1974, the Solar Energy Industries Association® is the national trade association of the U.S. solar energy industry. Through advocacy and education, SEIA and its 1,000 member companies are building a strong solar industry to power America. As the voice of the industry, SEIA works to make solar a mainstream and significant energy source by expanding markets, removing market barriers, strengthening the industry and educating the public on the benefits of solar energy. www.seia.org
Featured Product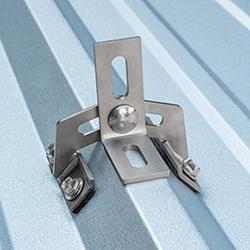 They have been changing the game for 10 years with their original Top Mount line for Asphalt Shingle roofs, and by now supplying one of the widest ranges of solar mounts in North America. From their patented products, to the custom production services they offer, QuickBOLT has been working with solar installers for nearly a decade to make solar installations easier than ever before.