First Full Service Contract of Clipper Wind Turbines
SAN DIEGO--EDF Renewable Services announced today it has secured the operations and maintenance contract at the Edom Hills Wind Farm. Owned and operated by a subsidiary of BP Wind Energy, Edom Hills is located in the San Gorgonio Pass near Palm Springs, California. The site consists of eight Clipper Windpower 2.5 MW turbines generating 20 MW of renewable energy.

Dalen Copeland, Director of Business Development for EDF Renewable Services, commented "Our experience with the Clipper turbines in Oaxaca, Mexico provides confidence that our O&M team will optimize availability for BP Wind Energy. Our depth of expertise in the San Gorgonio wind regime, complemented by our large local workforce, uniquely positions us to provide a smooth transition with minimum interruption of operations. With this contract, EDF RS services 87.5 MW of Clipper wind turbines in the US and Mexico."
Under the terms of the agreement, EDF Renewable Services will provide a suite of operations and maintenance services for wind turbine generators.
EDF Renewable Services is an industry leader, providing O&M services to more than 7,000 MW of wind and solar projects across North America. With over 25 years of experience and 450 full-time, trained and certified wind technicians employed, EDF Renewable Services has the resources and experience to optimize project availability and maximize revenues.
About EDF Renewable Services:
EDF Renewable Services is the leading third-party provider of operations and maintenance services in North America. With 25 years of experience, EDF Renewable Services understands renewable energy facilities represent a substantial investment. The company takes an owner-operator approach to ensure maximum returns on the asset, full project value, and ongoing profitability for new and existing facilities. As part of a global organization with utility-scale wind and solar plants, the company brings depth of experience to every project. With more than 7 gigawatts of wind and solar under contract, EDF Renewable Services is the trusted leader in O&M. For more information visit: www.edf-renewable-services.com
Featured Product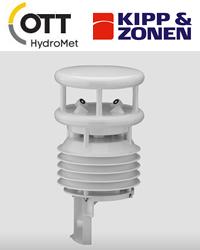 The WS50PV is an affordable, compact all-in-one weather sensor measuring the most critical parameters for commercial and industrial PV monitoring. Equipped with a suite of professional measuring sensors, the WS50PV can handle air temperature, relative humidity, barometric pressure, wind direction, and wind speed in one efficient housing to simplify mounting. Add an external temperature or rain sensor to the single-wire digital Modbus interface for fast and easy integration. The WS50PV is the tool you need for unlocking solar energy performance.