Hydropower and Photovoltaic in the Spotlight
Salzburg, April 12, 2013 RENEXPO® Austria Salzburg prospectively combines two trade fairs: RENEXPO® HYDRO, the largest small hydro trade fair within the German-speaking area and RENEXPO® PV, that consequently is further expanding its position as largest photovoltaic (PV) trade fair in Austria. "The new concept is based on the fact that over the last years both hydropower and photovoltaic have emerged as determining issues", defines Jasna Röhm, project manager of RENEXPO® Austria. The trade fair will take place from November 28 - 30, 2013 in the Salzburg Exhibition Centre.

With about 70 percent of electricity generation deriving from renewable energy sources, hydropower is the most important generative power source in the European Union. Especially in Austria, hydropower has a special meaning. Sequentially, RENEXPO® HYDRO is developing into one of the most important platforms for hydropower for Austria, Germany and Switzerland. 45 exhibitors are expected to showcase in Salzburg. In cooperation with Professor Bernhard Pelikan, Institute for Water Management, Hydrology and Hydraulic Engineering at the University of Natural Resources and Life Sciences, Vienna, the 5. Small Hydropower Conference, one of the most important events for international small hydropower, will take place as part of the trade fair on November 29, 2013. Operators and production engineers can expect a multisided scientific program.
Following the respectable success of the past two years, RENEXPO® PV provides PV companies with a significant platform in Austria. PV is not only an outstanding economic factor, but also an inherent part of energy transition in Austria.
75 exhibitors are supposed to showcase at the trade fair supplemented by conferences related to memory systems, inverters and handcraft and, the open exhibition forum "PV for citizens".
Additionally, RENEXPO® Austria still is a meeting place for the industry. The congress "EU-Energy Performance Certificate" scheduled for November 28, 2013 and organized by Salzburg Energy Consulting as part of RENEXPO® Austria will be providing latest information on building regulations.
For additional information please visit www.renexpo-austria.at.
About REECO Austria GmbH:
The organizer REECO Austria GmbH is located in Salzburg, Austria and is part of the REECO Group with headquarters in Warsaw/ Poland, Budapest/ Hungary, and Arad/ Romania. Since its foundation in 1997, REECO has organized 1,000 trade fairs and congresses with annually 50,000 visitors and more than 2,000 exhibitors. Annually, nine trade fairs and 60 congresses are currently part of the event in Germany and Europe.
Featured Product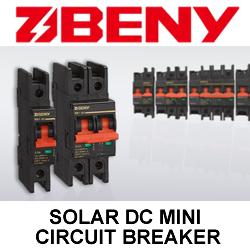 The BB1-63 modular miniature circuit-breakers can be used in solar DC circuits up to 1200 VDC (4-poles execution). Application in solar DC circuits, battery energy storage systems and UPS. Arc flash barrier design keeps solar equipment more safe and reliable. For DC circuit over-current protection.