Looking beyond Saudi Arabia, the CSP Today Global Tracker highlighted a number of updates made this week that demonstrate the progression of the concentrated solar power industry in MENA.
While attention has focused heavily on the Saudi Arabian solar opportunity, it should not be forgotten that there are a number of pipelines now opening for CSP companies in the Middle East. The commissioning of the 100MW Shams 1 project in the U.A.E. was undoubtedly a milestone for both the technology and the region, but there are other interesting projects under development, as highlighted by the CSP Today Global Tracker this week.

In Kuwait, an ISCC plant in Al Abdaliyah worth some 60MW is in the planning stage, with a further 50MW planned for the Shagaya Renewable Energy Complex. At the 5th Middle East and north Africa Solar Conference (MENASOL) 2013 on 14-15 May in Dubai the Kuwaiti Ministry of Electricity and Water will give updates on their current activity and how CSP will be implemented there.
The DohaSOL Pilot CSP plant in Qatar is another innovative project that will be coupled to a seawater Reverse Osmosis plant for water desalination. The project aims to combine solar and desalination technologies to produce electricity into portable water.
Perhaps the most interesting developments have been in Jordan, which has for a long period been considered as a potentially lucrative CSP market. According to the CSP Today Global Tracker, the Ministry of Energy and Mineral Resources (MEMR) in Jordan announced 12 months ago that no less than 34 expressions of interest were submitted for renewable energy electricity power generation projects.
Now, two CSP projects have been shortlisted, one of which will establish a project in the Ma'an Development Area should their final proposal be accepted. Shortlisted developers have until early-2014 to submit their final proposals and technology selections.
The CEO of Ma'an Development Area, Dr. Maher Madadah, will be giving analysis on the progress of the solar market in Jordan, together with the Electricity Regulatory Commission there.
For more information about the MENASOL conference, please visit www.csptoday.com/menasol
Contact information:
Matt Carr
CSP Today
matt@csptoday.com
Featured Product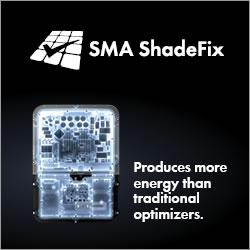 A recent university study showed SMA ShadeFix optimization produces more energy than traditional optimizers. It also utilizes far fewer components, reducing the need for costly service visits. Systems with ShadeFix optimization and SunSpec certified shutdown devices are the ideal solution for residential and commercial PV systems. Visit SMA's website to learn more and download the whitepaper.