The companies will hold grand openings at some of the locations in the coming weeks.
LOS ANGELES (April 18, 2013) - U.S. Bank, lead bank of U.S. Bancorp (NYSE:

USB), and SolarCity (Nasdaq: SCTY), are installing solar panels on top of
U.S. Bank branches and on newly constructed canopies over parking areas at a
select number of U.S. Bank locations in Los Angeles, San Diego, Inland
Empire and Orange County. The companies will hold grand openings at some of
the locations in the coming weeks.
SolarCity, a leading provider of clean energy, will sell renewable energy to
U.S. Bank through a Power Purchase Agreement (PPA). The new solar carports
and rooftop systems, which collectively approach one Mega-Watt (MW) in
generation capacity, will generate solar electricity for the branches while
providing shaded parking for customers.
In addition to generating energy savings, the solar systems are expected to
reduce U.S. Bank's carbon dioxide (CO2) emissions by more than 35 million
pounds, which is equivalent to taking 3,068 cars off the road or planting
more than 19,000 trees, based on computations using data from the
Environmental Protection Agency (EPA).
"We are always evaluating new ways to align our business practices and
customer offerings with our sustainability goals," said Sean Foley,
president of U.S. Bank in Southern California. "U.S. Bank has long been a
leader in renewable energy investing and we are looking forward to having
our own solar generation on-site while creating a comfortable banking
environment for our customers."
U.S. Bank and SolarCity will celebrate the installations with grand opening
events in coming weeks. The U.S. Bank branch locations that will display new
solar installations include:
. 9467 Milliken Ave. in Rancho Cucamonga;
. 393 W. Foothill Blvd. in Claremont;
. 25972 Muirlands Blvd. in Mission Viejo;
. 8444 Florence Ave. in Downey;
. 10942 Pine St. in Los Alamitos;
. 9918 Hibert St. in San Diego;
. 5100 Federal Blvd. in San Diego and
. 201 W. Bastanchury Rd. in Fullerton.
"SolarCity has benefitted greatly from the environmental leadership of
companies such as U.S. Bank," said Jim Cahill, SolarCity's regional vice
president of Southern California. "We are honored that U.S. Bank chose
SolarCity as its clean energy provider." SolarCity sustains a staff of 468
employees working out of six operations centers in Southern California and
is looking to fill more green jobs around the country.
About SolarCity
SolarCityR (NASDAQ: SCTY) provides clean energy. The company has disrupted
the century-old energy industry by providing renewable electricity directly
to homeowners, businesses and government organizations for less than they
spend on utility bills. SolarCity gives customers control of their energy
costs to protect them from rising rates. The company offers solar power,
energy efficiency and electric vehicle services, and makes clean energy easy
by taking care of everything from design and permitting to monitoring and
maintenance. SolarCity currently serves 14 states and signs a new customer
every five minutes. Visit the company online at www.solarcity.com and follow
the company on Facebook & Twitter.
About U.S. Bank
U.S. Bank has 674 branches and more than 7,000 employees in California,
which is more than double the size it was in California in 2008. Bank
Technology News named U.S. Bank one of "America's Greenest Banks" in 2011
and 2012. U.S. Bancorp (NYSE: USB), with $355 billion in assets as of March
31, 2013, is the parent company of U.S. Bank, the 5th largest commercial
bank in the United States. The company operates 3,080 banking offices in 25
states and 5,056 ATMs and provides a comprehensive line of banking,
brokerage, insurance, investment, mortgage, trust and payment services
products to consumers, businesses and institutions. Visit U.S. Bancorp on
the web at www.usbank.com.
Featured Product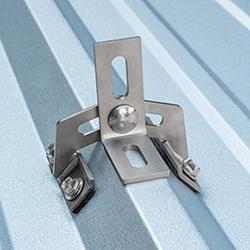 They have been changing the game for 10 years with their original Top Mount line for Asphalt Shingle roofs, and by now supplying one of the widest ranges of solar mounts in North America. From their patented products, to the custom production services they offer, QuickBOLT has been working with solar installers for nearly a decade to make solar installations easier than ever before.