Business, environmental groups applaud New York Senator's solar leadership
In honor of Earth Day, the New York State Senate today unanimously passed legislation to extend the NY-Sun Initiative through 2023 and solidify the state's long-term commitment to solar energy. Today's bipartisan vote for the New York Solar Bill (S.2522) indicates growing support among lawmakers for delivering comprehensive solar policy to Governor Cuomo's desk this legislative session.

Business and environmental groups praised bill sponsor Senator George Maziarz and other Senate supporters for passing the solar bill, which will create thousands of jobs, lower solar costs and increase energy reliability for all New Yorkers.
"The New York Solar Bill will help create new local jobs, modernize our power infrastructure, protect our environment, and put New York at the forefront of our growing clean energy economy. We commend New York's Senate for committing to this 10-year solar program. It will drive the kind of private investment that it takes to build a world-class solar market," said Carrie Cullen Hitt, senior vice president for state affairs at the Solar Energy Industries Association (SEIA).
"At a time when the state faces the dual challenges of an economy still in recovery and failing energy infrastructure, this solar bill can help build a stronger New York," said Peter Olmsted, east coast policy advocate for the Vote Solar Initiative (Vote Solar). "We thank bill sponsor Senator Maziarz and his colleagues for their leadership and look forward to working with the Assembly to get long-term solar policy across the finish line."
"Environmental benefits aren't the only kind of green worth celebrating this Earth Day. For all its eco-friendly credentials, solar power is also driving real investment and job creation right here in New York. With today's successful vote, our Senators showed that they are committed to seeing solar economic growth continue up and down the state," said Sail Van Nostrand, president of the New York Solar Energy Industries Association (NYSEIA).
"NY-Sun is delivering on its promise to jumpstart the solar industry in the Empire State; attracting private sector investment, creating local jobs, and reducing greenhouse gas emissions and other pollution from the electric sector," said Jackson Morris, director of strategic engagement at the Pace Energy & Climate Center. "Thanks to the leadership of Senator Maziarz, today's Senate vote moves us a critical step closer to a long-term solar program that will keep driving down costs and maximizing benefits to New Yorkers."
"In the wake of Superstorm Sandy, New Yorkers understand all too well the urgent need to combat climate change and better prepare for its impacts," said Pierre Bull, policy analyst at the Natural Resources Defense Council (NRDC). "Solar power is helping to tackle those challenges head-on. This bill—together with reductions in power plant pollution and increased energy efficiency and support for other renewable energy sources, like offshore wind—can help New York build a cleaner, safer and more secure energy future."
About the New York Solar Bill:
The New York Solar Bill (A.5060/S.2522) would build on the success of the NY-Sun Initiative, a public-private partnership designed to drive growth in the state's solar industry and lower solar costs for homes, businesses, schools and other energy users. NY-Sun was established to quadruple the amount of customer-sited solar photovoltaic (PV) capacity added between 2011 and 2013. In his 2013 State of the State address, Governor Cuomo committed to extending the NY-Sun Initiative through 2023. The New York Solar Bill would solidify a 10-year extension of NY-Sun in statute, ensuring that New Yorkers benefit from a stable and predictable long-term incentive program.
Sponsored by Senator George Maziarz (R-C, Newfane) and Assemblyman Steve Englebright (D- Setauket), the bill is expected to deliver the following benefits:
*Build 2,200 megawatts (MW) of solar, enough clean, reliable electricity to power 400,000 New York homes.
*Create thousands of new local jobs in New York.
*Save New Yorkers billions by reducing the need to fire up our dirtiest and most expensive fossil power plants.
*Spur millions of dollars of investment in the state's growing clean energy economy.
The proposal has support from a coalition of businesses, trade associations and environmental groups, including: Alliance for Clean Energy - New York, Borrego Solar, Citizens Campaign for the Environment, Environmental Advocates of New York, EDF Renewable Energy, E.ON Climate & Renewables North America, Mainstream Energy Corp., NRDC, The Nature Conservancy, New York League of Conservation Voters, New York Public Interest Research Group (NYPIRG), NYSEIA, Nexamp, Pace Energy & Climate Center, REC Solar, SolarCity, SEIA, Solar One, Sierra Club, SunEdison, Sungevity, SunPower Corp., Sunrun, Trinity Solar, and Vote Solar.
With enough solar to power 27,000 homes, New York currently ranks 12th in the country for total installed solar capacity. 3,300 New Yorkers are employed in the state's growing solar industry. In 2012, $257 million was invested in New York to install solar on homes and businesses. This represents a 91% increase over the previous year and is expected to grow again in 2013.
Featured Product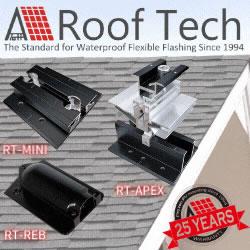 Now Roof Tech brings you the most innovative, watertight mounting systems ever developed for solar photovoltaic systems. Designed and manufactured exclusively for us by Japan's longtime leader in roofing technologies, Roof Tech products are 100% code-compliant and offer fast, simple installation and huge savings on shipping costs due to their compact, rail-less design. Learn more about our full line of versatile PV mounting solutions now available for residential installations. The next generation in rooftop solar mounting solutions."