Kingspan Wind is launching its new, much anticipated, high performance KW15 wind turbine, details of which will be made public for the first time at the All-Energy Exhibition & Conference, 22-23 May 2013. The company will also be providing information about its new free insurance package.
Kingspan Wind is launching its new, much anticipated, high performance KW15 wind turbine, details of which will be made public for the first time at the All-Energy Exhibition & Conference, 22-23 May 2013.

The company will also be providing information about its new free insurance package – believed to be the most comprehensive on the market – as well as advice on finance and the ease with which landowners can achieve planning permission for small turbines.
The KW15 is the latest addition to Kingspan Wind's acclaimed small turbine portfolio and the launch is expected to generate enormous interest, particularly among agricultural and rural communities. The company's other turbines, the KW3 and KW6, already enjoy worldwide popularity, with over 4,400 currently operating in 60 countries, many with more than 20 years' continuous operation.
Gavin Kerr, Technical Sales Manager for Kingspan Wind advises: "The launch of our new 15Kw turbine demonstrates our commitment to advancing and expanding our existing product portfolio, and it positions Kingspan Wind firmly as a global leader in the small wind turbine arena.
"The 15Kw turbine has been designed from the ground up and extensively tested to ensure that it matches the durability and efficiency of the existing KW series - widely regarded as the most reliable wind turbines on the market."
All Kingspan small wind turbines are able to operate in any wind speeds, even storm-force conditions, without needing to stop. As wind velocity increases, the blades pitch and cone to protect the turbine while at the same time maintaining continuous energy production. And none of the turbines have a gearbox, reducing the number of moving parts. Consequently, they require minimal servicing during their lifetime.
The KW15 incorporates a number of technical advances in small wind technology specifically to ensure responsible operation, low noise for ease of planning, and enhanced aesthetics. Newly designed turbine blades provide quiet operation in all wind conditions and the KW15's distinctive clean lines are expected to be well received by both local authorities and planning departments as well as by landowners.
"Visitors to the Kingspan Wind stand at All-Energy will be provided with a full product specification including performance and acoustic data," advises Mr Kerr. "Furthermore, our experienced Kingspan Wind team will be on hand to help savvy customers understand the financial benefits of producing their own green electricity, whilst generating income from the government's Feed-In Tariffs and taking control of their own energy generation.
"The new KW15 can effectively reduce your carbon footprint, help future proof against rising electricity costs and provide an excellent return on investment for smart consumers."
Commenting on the continued popularity of the Kingspan Wind range, Mr Kerr continues: "There are very few manufacturers who can reference such longevity in the wind market and we know customers find this very reassuring."
To add to customers' comfort and peace of mind, all Kingspan Wind systems now come with a free and exclusive Royal Sun Alliance wind turbine insurance policy. Called Connect and Protect, it provides comprehensive cover, including damage, breakdown and loss of revenue and Feed in Tariff payments.
Kingspan Wind customers will qualify for 12 months free Connect and Protect insurance alongside the product warranty provided the installation has been carried out by a Kingspan Accredited Installer.
Mr Kerr adds: "Connect and Protect is backed by two major UK-based plcs, Royal Sun Alliance and Kingspan, so consumers can invest with confidence. And we are very proud to be able to offer our customers the most comprehensive wind turbine insurance package on the market for no initial charge – once you're connected, you're protected."
Kingspan Wind has also recently launched a wind-crofting initiative for land owners, farmers and businesses. Wind-crofting is rapidly gaining in popularity because the requisite planning permission is far easier for multiple installations of these small-scale turbines with a tip height below 25 metres than for a single medium-to-large scale system.
Bespoke packages are available for off-grid and direct heating applications, where customers wish to reduce heating costs or a reliance on diesel generators while benefiting from Feed-in-Tariff income.
To find out more or to arrange a site survey, come to Kingspan Wind's stand at All-Energy (stand A41). More information can also be found by calling 01560 486 570, or emailing info@kingspanwind.com.
Ends
For press information:
Gerry Vincent
Tel. 07879 600788
Notes to Editors
1. Kingspan Wind is Kingspan Environmental's marketing-leading brand of small wind turbines.
2. Kingspan Environmental is the UK's leading manufacturer of environmental solutions specialising in renewable energy, water management and environmental management.
3. The division's comprehensive product portfolio includes rainwater harvesting, solar thermal packages, air source heat pumps, small scale wind turbines, off-mains wastewater and stormwater solutions, oil tanks, telemetry and monitoring and hot water storage solutions for both domestic and commercial markets.
4. It offers totally integrated design, installation and maintenance services for customers to support projects including solar energy, wind power, water management, storage systems and telemetry monitoring. Its technical experts can review the objectives of individual projects and provide a fully integrated proposal in response to a brief.
5. To request a copy of the Kingspan Environmental corporate brochure, email ourworld@kingsapan.com or view at www.kingspanebook.com
Featured Product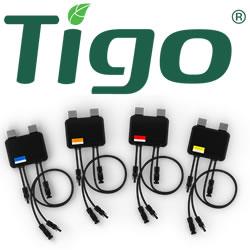 Tigo will announce the new product launch of the patented UHD-Core TS4-A (Advanced Retrofit/Add-on) Platform at SPI 2019. The new TS4-A-M (Monitoring) & TS4-A-S (Safety) units have improved lightweight hardware and lower labor costs to address a range of functions and budgets. The TS4-A-M allows module-level monitoring via Tigo's SMART Website & App. The TS4-A-S is UL-certified as a rapid shutdown solution for residential and C&I PV system. Both units join the Tigo's multivendor solution that works with almost any inverter and smart module in the global PV market. Contact sales@tigoenergy.com for pricing, shipping, and availability in Q4'19.