6,200 Solar Panels Installed in 1.76MW Project at Springfield Service Center
SPRINGFIELD, Ohio – Assurant Specialty Property, one of Springfield's largest employers, marked Earth Day by dedicating the area's newest, largest solar energy installation.

More than 6,200 solar panels, installed on rooftops and atop 15 new parking canopies over the prior six months, are now supplying power to Assurant's campus off East Leffel Lane. Springfield Mayor Warren Coleman and State Rep. Ross McGregor were on hand for the dedication.
The 1.76 megawatt project will produce more than 1.9 million kilowatt hours of solar power annually – making it the Springfield-Dayton area's largest solar installation.
"I can't think of a better way to celebrate Earth Day than marking the completion of this project," said Ray Rafferty, vice president for Assurant Specialty Property's Springfield Service Center. "We're demonstrating our commitment to environmentally responsible business practices and helping control our energy costs for years to come."
Marking the dedication, the Assurant Foundation also announced a $5000 grant to Center City Association of Springfield, for environmental programs.
The solar power produced at Assurant Specialty Property in Springfield translates to a reduction of more than 1,400 tons of carbon dioxide, or the equivalent of planting more than 33,000 trees, or more than 280 acres of pine forest.
Assurant Specialty Property is part of Assurant Inc., a leading provider of specialty insurance. The Springfield solar project, first of its kind at an Assurant facility, also expands the company's expertise in the solar industry. Assurant launched the nation's first specialized insurance and warranty management program for commercial-scale solar installations in May 2012, and is insuring the solar project at Springfield.
Also on hand for the dedication was Tom Kimbis, general counsel and vice president of the Solar Energy Industries Association, who added: "Leading companies such as Assurant recognize that good environmental practices make for good business. This is an impressive, state-of-the-art project, and projects such as this are a big reason why Ohio has become a national leader in solar job growth. Our congratulations go out to everyone involved."
Tangent Energy Solutions, experts in commercial and industrial energy technologies, will operate the array, owned by LCP Solar Development I, LP, and managed by Laurel Capital Partners. The project was constructed by Third Sun Solar, a leading solar energy installer based in Athens, Ohio.
Assurant Specialty Property employs approximately 1,900 at the Springfield campus. "We're very proud to be on the cutting edge of solar technology here in southwestern Ohio," Rafferty said. "This project makes sense for our company and the environment, and is a real point of pride for our entire team."
# # #
About Assurant Specialty Property
Assurant Specialty Property is a leading provider of insurance services in partnership with financial institutions, mortgage lenders, manufactured home sellers, auto finance companies, property managers and their customers. Services include insurance tracking and management, lender-placed homeowners insurance, and property and personal coverage such as renters, farm and flood insurance.
Assurant Specialty Property is part of Assurant, a premier provider of specialized insurance products and related services in North America and select worldwide markets. Assurant, a Fortune 500 company and a member of the S&P 500, is traded on the New York Stock Exchange under the symbol AIZ. Assurant has approximately $29 billion in assets and $8 billion in annual revenue. www.assurant.com.
About Tangent Energy Solutions
Tangent Energy Solutions reverses the traditional utility- driven approach to developing the smart grid by partnering with commercial and industrial customers to optimize the "grid behind the meter." By providing clean energy assets and technologies at no capital cost, Tangent saves C&I energy customers 20%+ while increasing the amount of renewable content in their supply. Tangent actively manages on-site assets to decrease a customer's reliance on grid-sourced energy, especially during peak demand periods. Tangent was founded in 2009 by a management team that has been providing commercially successful energy innovations to mainstream C&I customers for 30 years. www.tangentenergy.com
About Third Sun Solar
Based in Athens, Ohio, Third Sun Solar is a fast-growing design/build solar firm serving Ohio and the surrounding states. An Inc. 5000 company in 2009, 2010 and 2011, Third Sun Solar is at the forefront of the emerging clean energy industry – a growing resource for 21st-century Ohio jobs. For more than a decade, the company has custom designed and installed over 350 solar energy systems for its commercial, institutional, government, and residential customers across the Midwest. Third Sun Solar employs a team of NABCEP-certified solar energy system installers along with design engineers, financial analysts, grant specialists, and support staff, all focused on making it easier for customers to go solar. www.third-sun.com
Featured Product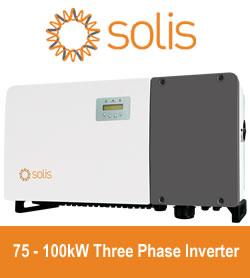 Solis75kW - 100kW series high-power string inverters are widely used in industrial and commercial rooftops. Solis's new three-phase string inverter is the first choice for industrial and commercial photovoltaics. 75-100kW three phase series string inverter have Maximum 28 strings input, support "Y" type connection in DC side. Maximum string input current 13A, support bifacial modules access.Supports anti-PID function to improve system efficiency.