New company by The meeco Group and SETL to be operated under oursun trademark
ZUG/PORT-LOUIS. On May 3rd 2013, the LEAL-owned company SOLAR-ERNTE-TECHNIK LTD (SETL) based in Mauritius and the Swiss company meeco AG, have created a jointly held company named SETL-MEECO Ltd that will operate under the trademark oursun. After several successful solar photovoltaic and energy storage project collaborations, the two companies have decided to combine their strengths. The company's strategic objective will be to consolidate ongoing and future business in Mauritius as well as enter neighboring islands in the near future.

One year after its first steps in the market, The meeco Group further develops the initial collaboration with the local solar specialist SETL into a partnership to continue delivering quality projects. Dr. Wolf Weirich (President) and Mr. Dieter Trutschler (Director of Sales) represented the Swiss Board of Directors at the ceremony. Mr. Eric Leal, current CEO of the LEAL Group is the new company's President, while Mr. Philippe Genoud occupies the COO position. As of May 1st, SETL-MEECO Ltd has officially taken over all activities previously carried out by SETL in cooperation with The meeco Group.
"This is a clear step forward in the relations between the LEAL group and The meeco Group that will facilitate the development of renewable energy projects in Mauritius and the region" says Dieter Trutschler. "The oursun trademark will give a clear identity to the jointly held company and shall be the vehicle for solar energy growth across the region, which is characterized by its particularly high solar irradiation values throughout the year" adds Philipe Genoud.
About The meeco Group: The meeco Group was consolidated in 2000 and oriented its main focus towards the energy sector. With world headquarters located in Zug, Switzerland, the group currently has over 50 employees working across 4 continents. Thanks to a structured but flexible approach based on its core competencies, meeco has delivered over 250 MW of clean, renewable energy solutions across four continents. The meeco Group accomplishes its mission by providing project developers, investors, governments, and private businesses with the services necessary for timely financing, installation, and operation of clean energy assets.
For further information visit: www.meeco.net
Featured Product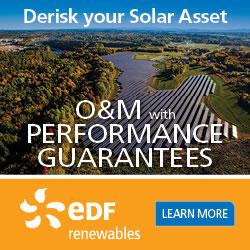 EDF Renewables offers the same innovative solutions that maximize the performance of our own 5.2 GW of installed projects. Because we're not an equipment manufacturer, our recommendations are transparent and data-driven. We cover the entire project lifecycle: from pre-commissioning support, through warranty and post warranty operation, to late stage and decommissioning.