"Enlisting the Sun: Powering the U.S. Military with Solar Energy" shows solar energy's growing role in powering military installations and military homes across the U.S.
WASHINGTON, DC -- In celebration of Armed Services Day, the Solar Energy Industries Association (SEIA) today released a first-of-its-kind report detailing how innovative solar technologies are helping the U.S. military meet many of its critical functions – from security and battlefield readiness to cost savings and efficiency.

"Enlisting the Sun: Powering the U.S. Military with Solar Energy" shows solar energy's growing role in powering military installations and military homes across the U.S. As of early 2013, there are more than 130 megawatts (MW) of solar photovoltaic (PV) energy systems powering Navy, Army and Air Force bases in at least 31 states and the District of Columbia.
Just as importantly, solar energy is playing an increasingly important role in making the U.S. military's energy supply more secure, more affordable and less reliant on often-times unstable foreign sources.
"America's solar companies, which employ nearly 120,000 workers from coast to coast, are very proud of the contributions they're making to help the men and women of the U.S. military to defend our nation," said Rhone Resch, SEIA president and CEO. "Solar clearly is making a big difference – both on the front lines and in military installations from North Carolina to Hawaii. Many of the technologies being used by the military today have been adapted for use from consumer products."
In Afghanistan, for instance, U.S. troops in battle zones are using everything from portable solar panels to solar tent shields to cutting-edge, solar-powered security systems to help them successfully carry out critical missions.
In recent years, the Pentagon has become increasingly concerned about an overdependence on fossil fuels. Today, the military buys gas for just over $1 a gallon, but getting that gasoline to forward bases in Afghanistan costs more than $400 per gallon.
By utilizing more solar energy, military leaders say they are not only saving money, but potentially saving lives, too, since solar is helping to reduce the number of truck convoys needed to transport fuel, which are frequently the targets of attacks by insurgents or improvised explosive devices (IEDs). Over the past decade, there have been more than 3,300 U.S. casualties as a result of attacks on fuel convoys.
"Today, the Defense Department is one of the largest institutional users of solar energy in the world," Resch added. "After using solar energy on military bases and in the field, many returning servicemen and servicewomen are finding great career opportunities at solar firms, which have been actively recruiting veterans. Many other veterans have started firms of their own."
In addition to its operational uses, solar energy is helping the U.S. Department of Defense (DOD) to rein in its massive energy bills. As the largest energy consumer in the world, the DOD faces a $20 billion energy bill each year. In response to increasing energy needs and shrinking budgets, the DOD has committed to meet 25 percent of its energy needs with renewable energy by 2025. The Navy, Army and Air Force are each implementing aggressive plans that are increasing investments in solar, which is expected to encourage even more innovation within the industry.
Today, the U.S. has 7,700 MW of installed solar electric capacity – enough to power more than 1.2 million American homes – and 40 percent of our existing capacity, or 3,300 MW, was installed last year alone, making solar one of the fastest-growing industries in the nation. America's solar industry now employs nearly 120,000 workers at 5,600 companies – most of which are small businesses spread across every state in the union.
About SEIA®:
Established in 1974, the Solar Energy Industries Association® is the national trade association of the U.S. solar energy industry. Through advocacy and education, SEIA and its 1,000 member companies are building a strong solar industry to power America. As the voice of the industry, SEIA works to make solar a mainstream and significant energy source by expanding markets, removing market barriers, strengthening the industry and educating the public on the benefits of solar energy. www.seia.org
Featured Product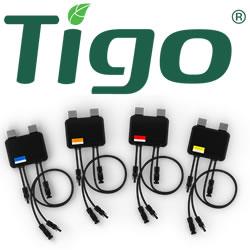 Tigo will announce the new product launch of the patented UHD-Core TS4-A (Advanced Retrofit/Add-on) Platform at SPI 2019. The new TS4-A-M (Monitoring) & TS4-A-S (Safety) units have improved lightweight hardware and lower labor costs to address a range of functions and budgets. The TS4-A-M allows module-level monitoring via Tigo's SMART Website & App. The TS4-A-S is UL-certified as a rapid shutdown solution for residential and C&I PV system. Both units join the Tigo's multivendor solution that works with almost any inverter and smart module in the global PV market. Contact sales@tigoenergy.com for pricing, shipping, and availability in Q4'19.