The mature and zero-carbon technology of geothermal power is being held back by the cost and uncertainty of drilling wells, but new research suggests a possible answer
Washington DC, 23 May 2013. The Catch-22 problem that is holding back world investment in geothermal power could be addressed via the establishment of a "global geothermal exploration drilling fund", with either private investors and banks or government entities and development banks as the capital providers.

A new White Paper, published today by research firm Bloomberg New Energy Finance and analysis provider Rinova International, examines how a possible $500m fund could help geothermal developers. At present, the industry faces the problem that that even though the sector as a whole can offer attractive returns, it is very difficult to raise the capital to drill individual wells because of the high risk of failure.
The drilling fund discussed in the White Paper would offer debt financing to exploration-phase projects at rates that might appear high compared to conventional infrastructure loans but would nevertheless be attractive enough to make geothermal projects viable.
Mark Taylor, lead geothermal analyst at Bloomberg New Energy Finance and co-author of the report, said: "Geothermal is one of the most attractive renewable power sources for countries to develop. It is zero-carbon, the technology is well proven over decades, and it can offer baseload, non-intermittent electricity at a cost close to that of fossil-fuel sources.
"The problem is that wells are expensive to drill and the often modestly capitalised developers find it difficult to raise either equity or debt finance because investors fear that the company concerned will be one that drills unsuccessfully and then fails. The proposed fund would be big enough to take losses, in the knowledge that the winners will outweigh the losers. It would be a particularly valuable source of finance in developing countries, where the majority of world's unexploited geothermal power is located," Taylor added.
The research found that a commercial financing basis approach using a 7% cost of capital would result in a 17% interest rate to market developers, while a fund with public sector support and a 3.5% rate of return to public sector contributors could offer loans at a 14% interest rate.
The fund's economics are also attractive from a development perspective, with a 1:25 indirect financial leverage ratio, and 9MW of capacity resulting per million dollars of funds utilised. Put differently, $500m in the fund would result in approximately $9.6bn of new investment in geothermal projects.
The fund would directly finance drilling of 473MW across a portfolio of 24 projects and, in the scenario the White Paper presents, those confirmed resources would catalyse an additional 1,927MW, taking the total impact of the fund coming to 2,400MW.
Jessica Thompson, president of Rinova International, said: "It is $5–9m to develop each well, and so it costs about $10–36m just to know whether or not a particular resource merits development, since any developer would need to drill between two and four wells per site. The high cost and risk of answering this question is keeping most geothermal sites undeveloped."
Bloomberg New Energy Finance data suggest that just 6% of the world's estimated 196GW of geothermal potential has so far been realised. Much of the capacity that has been built is in developed economies, such as the US, Italy and Iceland, and the large majority of the capacity that could be built is in developing countries such as Indonesia, the East African Rift Valley and Central and South America.
Geothermal power as discussed in the White Paper exploits naturally occurring pockets of steam or hot water close to the Earth's surface (eg, volcanic areas) to generate electricity. Wells are drilled to extract steam or hot water from underground reservoirs. Steam can be used to drive a turbine. Hot water can be sent to a heat exchanger system where a working fluid is evaporated and the resultant gas is used to drive a turbine.
ABOUT BLOOMBERG NEW ENERGY FINANCE
Bloomberg New Energy Finance (BNEF) is the definitive source of insight, data and news on the transformation of the energy sector. BNEF has staff of more than 200, based in London, New York, Beijing, Cape Town, Hong Kong, Munich, New Delhi, San Francisco, Săo Paulo, Singapore, Sydney, Tokyo, Washington D.C., and Zurich. BNEF Insight Services provide financial, economic and policy analysis in the following industries and markets: advanced transportation, bioenergy, carbon capture and storage, carbon markets, digital energy, energy efficiency, energy storage, gas, geothermal, hydro & marine, nuclear, power markets, REC markets, solar, water and wind. BNEF's Industry Intelligence Service provides access to the world's most comprehensive database of assets, investments, companies and equipment in the same sectors. The BNEF News Service is the leading global news service focusing on finance, policy and economics for the same sectors. The group also undertakes custom research on behalf of clients and runs senior-level networking events, including the annual BNEF Summit, the premier event on the future of the energy industry. New Energy Finance Limited was acquired by Bloomberg L.P. in December 2009, and its services and products are now owned and distributed by Bloomberg Finance L.P., except that Bloomberg L.P. and its subsidiaries distribute these products in Argentina, Bermuda, China, India, Japan, and Korea. For more information on Bloomberg New Energy Finance: http://about.bnef.com ABOUT BLOOMBERG Bloomberg, the global business and financial information and news leader, gives influential decision makers a critical edge by connecting them to a dynamic network of information, people and ideas. The company's strength – delivering data, news and analytics through innovative technology, quickly and accurately - is at the core of the Bloomberg Professional service, which provides real time financial
information to more than 310,000 leading business and financial professionals around the world.
The BLOOMBERG PROFESSIONAL service and data products are owned and distributed by Bloomberg Finance L.P. (BFLP) except that Bloomberg L.P. and its subsidiaries (BLP) distribute these products in Argentina, Bermuda, China, India, Japan and Korea. BLOOMBERG, BLOOMBERG NEWS, BLOOMBERG TELEVISION, BLOOMBERG RADIO, BLOOMBERG MARKETS AND BLOOMBERG.COM are trademarks and service marks of Bloomberg Finance L.P., a Delaware limited partnership, or its subsidiaries. All rights reserved.
ABOUT RINOVA INTERNATIONAL
Rinova International Rinova is a global analysis and advisory firm assisting the transition to a green economy. It draws on an international network of experts to advise its clients on their strategies, investments and programs in environmentally-sensitive investment sectors, particularly in clean energy, land use and technology. Rinova specializes in emerging markets, unique regulatory and cultural contexts, and private-public cooperation on green growth and climate problems. At a project- and firm-level we help with market entry, strategy, financing, project assessment and due diligence. For larger public or private organizations we also assist with the efficient design of mechanisms and programs designed to deliver support to environmentally- and socially-responsible green economy investments, including financing and technical assistance. Our insights on low-carbon, sustainable and resilient investing and planning enable our clients to succeed in a world where the nexus of business, policy, environment, and society is critical. For more information, please visit http://www.rinovainternational.com
Featured Product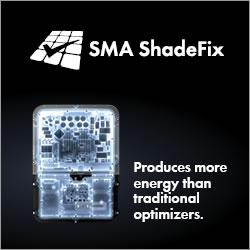 A recent university study showed SMA ShadeFix optimization produces more energy than traditional optimizers. It also utilizes far fewer components, reducing the need for costly service visits. Systems with ShadeFix optimization and SunSpec certified shutdown devices are the ideal solution for residential and commercial PV systems. Visit SMA's website to learn more and download the whitepaper.