In the 20th century, the hydro power plant is the most existing and reliable power plant. Different countries in the world have targeted their projections on it.
Author's Profile:

Bikash Kumar Sahu
Department of Electrical and Electronics Engineering, Gandhi Institute for Education and Technology (GIET), Baniatangi, Khorda, Odisha, India, 752060
Phone No : +91-6755-243603 / +919658157323; Fax – 06755-243601
The Democratic Republic of Congo is ready to install a 4.8 GW based Inga III hydro power plant with the investments of US 12 billion dollar projects by 2015 (after failing of two attempts on it). In an interview on May 24, the Ministry of Energy Kapandji said that support from the African Development Bank and World Bank, and the emergence of South Africa as a guaranteed purchaser of 2.5 GW of power will help the country find the at least $8.5 billion of financing it needs. Kapandji also said that Inga III next step is to generate 40 GW which would be a largest hydro power plant in the world. Now, China has the world's largest hydro power plant i.e. the "Three Gorges hydro project" with the generation capacities of 22.5 GW while Brazil has the world's second hydro power generation capacities i.e. the "Itaipu hydro power plant". Inga lies on the Congo River, the world's biggest by volume after the Amazon and the power project is expected to supply a number of neighboring countries. A $5.2 billion plan to build Inga III by Western Power Corridor, a venture between five southern African countries, fell apart in 2010 "because of bad preparation," Kapandji said. Two years later, BHP Billiton Ltd. (BIL), the world's biggest mining company, scrapped plans to finance the hydropower site when it decided not to build a proposed aluminum smelter in Congo.
Kapandji said that the new Inga plan targets is constructed the six more power plants including Inga III projects. The extra construction charge would be raised to US $12 billion including inflation and financing fees. Congo will selects the three different groups of companies such as China Three Gorges Corp. (CJSXGZ) and Sinohydro Corp. (SHYDRZ); Posco (005490) and Daewoo Corp. (042660) of South Korea in partnership with Canada's SNC-Lavalin Group Inc. (SNC); and Actividades de Construccion y Servicios SA, based in Madrid, and Spain's Eurofinsa Group which have submitted a third bid. Congo is being advised by U.S. law firms Orrick, Herrington & Sutcliffe LLP, Lazard Ltd. (LAZ), Tractebel Energia SA (TBLE3) of Brazil and GDF Suez (GSZ) of France.
Kapandji also said that the project financing will be selected by the processes. Kapandji also said that due to mismanagements of energy processes, now more than 70 million people have no electricity. In the current Inga plan, 2,300 megawatts will go to mining companies in Congo. The fees from South Africa and miners will help finance future energy projects for the population, Kapandji said.
Featured Product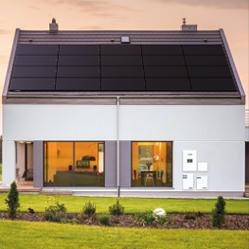 The Q.Home+ ESS HYB-G1 energy storage solution offers scalable storage capacity from 4.5 kWh up to 18.9 kWh and comes in a modular design for easy and fast installation. The system is offered in both DC-coupled and AC-coupled configurations and can connect up to 3 batteries in series using only one inverter and battery management system (BMS). The system includes an integrated backup power function for 100% of the rated inverter output to support critical loads in the event of power failure and offers remote monitoring using the QHOME+ web portal or QHOME+ ESS mobile app.