SENER will offer two technical conferences at the event
Copenhagen, May 28, 2013. The engineering and technology group SENER will be present at the European Biomass Conference and Exhibition 2013 held in Copenhagen (Denmark) between June 3 to 7.

SENER, a successful company in the power sector and an international reference in the development of both conventional and renewable power plants, will offer two technical conferences at the event. On June 3, the Biomass Director of SENER's Energy and Environment Area, Fernando Suárez, will present the paper 'Solid biomass production, the Spanish singularity', analyzing the current situation of the Spanish biomass sector. From his part, José Fernando Díaz, Proposal Manager at SENER, will explain on June 6 the paper 'SENER's high efficiency biomass firing power plants' regarding the high efficiency configurations developed by SENER for power generation through biomass combustion. Likewise, both SENER representatives will take part at the Bioenergy Industry Event, introducing the company and giving a presentation, on the II Session on June 4, about SENER's power generation plants with biomass.
SENER has been a pioneer in renewable energies and, nowadays, it is recognized worldwide in fields such as solar thermal power, where SENER is a leading company. Besides, for 20 years, SENER has developed advanced technologies for the valorization of Municipal Solid Waste, pig manure and biomass, with the aim to obtain high efficiency solutions with high availability.
In the biomass field, cultivating and efficiently converting highly productive short cycle biomass crops into energy is a novel business sector, in which SENER can deploy its capacity and innovative prowess to bring together the agricultural and industrial developments with which SENER maintains an outstanding technological position in the market. Nowadays, SENER has its own highly efficient thermal processes for biomass and waste energy use, the SENER 2 and SENER 4 thermal cycles, that make it possible to improve energy efficiency by about 15 % while at the same time keeping corrosion levels low in its steam boilers.
SENER's strategy in this sector has been focused on applying highly efficient yet minimally corrosive technology in optimally sized plants (> 17 MWe), supplied mainly with biomass crops: factors which, when combined, ensure that the facilities have high availability and will be economically viable over the long term. SENER has promoted several projects in Spain such as the Juneda, S.L. Biomass Power Plant, that are now in stand-by, because of the current situation of the renewable energy sector in Spain.
Besides, from the Engineering and Construction Area, SENER is supplying a biomass power plant in Mérida (Badajoz, Spain), owned by ENCE. It is a lump sum turnkey contract – a modality the company is specializing on over the last years - which includes the design, procurement, construction, and commissioning of the power plant. The new facility will consist of a power plant through the use of biomass crops. With 20 MW, it will be one of the largest renewable biomass power plants in Spain. Once in service, during the third quarter of 2014, it will have an annual generation of about 160 GWh. Thanks to its innovative design, which will combine high-efficiency and high-availability, the Mérida biomass plant will be a benchmark for biomass power generation plants.
The Group has its own patented technological developments, independent from manufacturers and suppliers and adaptable to each location singularities. In this regard, SENER's reputation is built on power generation, its efficient use, as well as on the design and optimization of chemical and industrial processes.
About SENER
SENER is a private engineering and technology group founded in 1956, which seeks to offer its clients state-of-the-art technological solutions and which enjoys international recognition, thanks to its independence and its commitment to innovation and quality. SENER has a workforce of more than 5,000 professionals and a turnover of 1,160 million Euros (2011 figures).
SENER engages in the specific activities of Engineering and Construction, and also holds industrial company shares in firms involved in the field of Energy and Environment, as well as in Aerospace technology. The Engineering and Construction Division, SENER Ingeniería y Sistemas, S.A. has become one of the largest engineering companies in Spain, with a turnover of more than 653 million Euros (2011 figures), employing some 2,200 workers and having offices in Abu Dhabi, Algiers, Barcelona, Bilbao, Buenos Aires, Busan (South Korea), Lisbon, Madrid, Mexico City, Okayama (Japan), San Francisco, São Paulo, Valencia and Warsaw.
About the European Biomass Conference and Exhibition 2013
The EU BC&E covers the entire value chain of biomass to conduct business, to network, and to present and discuss the latest developments and innovations. In 2013, this event celebrates its 21st edition at Copenhagen (Denmark) between June 3 and 7.
The EU BC&E is supported by European and international organisations such as the European Commission, UNESCO - United Nations Educational, Scientific and Cultural Organization, Natural Sciences Sector, Ministry of Foreign Affairs of Denmark, DEA Danish Energy Agency, WCRE - the World Council for Renewable Energy, EUBIA - the European Biomass Industry Association, Copenhagen Cleantech Cluster, Danish Bioenergy Industries Association, INBIOM Innovation Network Biomass, City of Copenhagen and other organisations.
Featured Product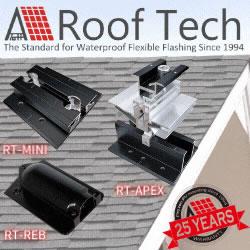 Now Roof Tech brings you the most innovative, watertight mounting systems ever developed for solar photovoltaic systems. Designed and manufactured exclusively for us by Japan's longtime leader in roofing technologies, Roof Tech products are 100% code-compliant and offer fast, simple installation and huge savings on shipping costs due to their compact, rail-less design. Learn more about our full line of versatile PV mounting solutions now available for residential installations. The next generation in rooftop solar mounting solutions."