Alternative Utility Services, Inc. (AUS), in partnership with Community Green Energy, LLC. (CGE) announced the launch of their proprietary Virtual Solar Power Purchase Program. It bridges the funding gap many large scale solar generation projects currently encounter in deregulated energy markets.
May 28, 2013- Community Green Energy, LLC (CGE), partnering with Alternative Utility Services, Inc. (AUS), announced that they have developed a proprietary product called the Virtual Solar Power Purchase Agreement™ (VSPPA). It provides electricity users with an easy and transparent way to sponsor an existing or planned solar generation project by purchasing the off-site electricity generated directly from the project over a 15-20 year term.

"The VSPPA was developed to get grid-connected solar projects funded by selling the electric commodity directly to the end user instead of just selling it to the grid at wholesale," said Catherine McQueen, CEO and co-founder of AUS. "Through the simple act of buying electricity, you could create 160 construction jobs, 6 permanent jobs, and offset 7,000 tons of co2 annually."
Through a VSPPA, a solar project sponsor commits to a long-term purchase of all or a percentage of the electricity generated by the solar project. Sponsors are directly connected to the project through their electrical purchase which helps provide the necessary additional revenue for the project developer. Meanwhile, the sponsors enjoy electric commodity from an alternative energy source with a 15-20 year solar hedge on electricity for part of their electric load, as well as recognition and branding as a green' company.
In most deregulated states, the utility may not enter into a long-term Power Purchase Agreement [PPA] with a solar developer. In the few instances when long-term PPAs are allowed, the electric commodity is sold at a variable market rate into the wholesale market for purchase.
"Banks and investors don't like the uncertainty of variable market prices," said Mike Erickson, VP Business Development at CGE. "The VSPPA solves this problem by linking a corporate sponsor directly with the solar generation project to purchase the electric commodity for a 15-20 year term."
Fritz Kreiss, President and co-founder of AUS sees VSPPAs as a perfect fit for Municipal Energy Aggregation (MEA) programs. MEA allows for a community to aggregate the electric loads of its residents to choose that their electric supply includes renewable energy components, thus supporting the community's sustainability goals.
"We're excited about the opportunities Municipal Energy Aggregation gives communities," said Fritz Kreiss. "VSPPAs directly support the development and construction of direct grid tied solar generation by eliminating the complexity and roadblocks of sourcing renewable energy from off-site sources, and helps boost the local economy."
More information about the Virtual Solar Power Purchase Agreement can be found by visiting www.communitygreenenergy.com/services/vsppa or by contacting AUS or CGE.
Alternative Utility Services, Inc., established 1993, is a national energy consulting company licensed as an energy broker and energy aggregator nationwide. www.ausenergy.com 800-392-4287
Community Green Energy develops and finances renewable energy and energy efficiency projects nationwide. Included among their many projects are community solar gardens, community choice aggregation and utility scale solar development. www.communitygreenenergy.com 262-248-0927
Featured Product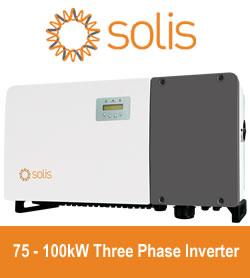 Solis75kW - 100kW series high-power string inverters are widely used in industrial and commercial rooftops. Solis's new three-phase string inverter is the first choice for industrial and commercial photovoltaics. 75-100kW three phase series string inverter have Maximum 28 strings input, support "Y" type connection in DC side. Maximum string input current 13A, support bifacial modules access.Supports anti-PID function to improve system efficiency.