Attendees for CSP Today Latam 2013 (17-18 July, Antofagasta) will have the unique opportunity to see how CSP technology works within a mining set up.
The El Tesoro plant (14MW CSP parabolic trough technology) is producing steam for mining applications since November last year

The first operational solar thermal plant in Latin America, is a parabolic trough plant, it has 1,280 collectors with a capacity of 14MW, uses a land surface of 6 hectares and has been developed by Abengoa. The solar thermal station has meant El Tesoro has succeeded in replacing 55% of diesel during the extraction process and accounted for a 4% reduction in total carbon emissions from the mine.
The site visit will take place on 19 July, the day after the conferences, and will allow delegates to tour not only the mine site, but also both CSP and PV plants powering El Tesoro. Furthermore the conference program has been complemented with new sessions. An in-depth analysis of the expectations and status of the CSP government bid will be conducted with the key institutions and stakeholders. A new financing workshop aimed for financial professionals has also been organized as a side event, and will be led by experts with years of experience structuring project finance for CSP plants.
To see more details on the El Tesoro CSP plant tour, as well as CSP Today LATAM 2013, please visit:
http://www.csptoday.com/latam/en-content10.php.
Or contact Ricardo Sorlí by email at ricardo@csptoday.com
Featured Product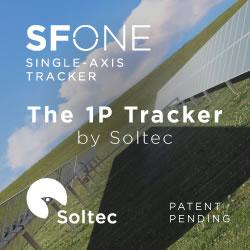 Soltec manufactures and supplies solar trackers designed and proven for extreme climate conditions, which is an ideal solution for any region's environment. Soltec's trackers are self-powered, requiring no additional PV module or grid-powered connection. Bifacial modules collect energy on both the front and rear sides, capturing reflected irradiance from the ground surface under and around the tracker and from other modules. Depending on site conditions, bifacial yield-gain can reach +30 percent.