The island's constant supply of sun, eastern trade winds and ocean currents allow for research and field-testing of renewable energy technologies.
ORANJESTAD, Aruba, June 25, 2013 -- The 70 square-mile island of Aruba is on track to becoming the world's first sustainable energy economy and achieving the goal of running on 100 percent sustainable energy by 2020. In recent years, sustainability efforts within the travel industry have progressed from a niche consideration to an industry-wide priority; 96% of Conde Nast Traveler readers believe hotels and resorts should be responsible for protecting the environment in which they operate.

Following efforts to reduce dependency on fossil fuels and CO2 emissions, Aruba built the Vader Piet Windmill Farm in winter of 2009. Located on the island's northern coast are 10, 180-meter high wind turbines that currently produce 20 percent of Aruba's electricity. Plans are in progress for a second wind farm, which will double the energy capacity and continue to decrease Aruba's carbon footprint.
Professor Daniel P. Schrag, director of the Center for Environmental Studies at Harvard University and member of the Advisory Council on Science and Technology to President Obama explains, "Few places in the world approach 50 percent renewable energy use, and Aruba could soon be at nearly 40 percent with a second wind farm."
The island's constant supply of sun, eastern trade winds and ocean currents allow for research and field-testing of renewable energy technologies. In June 2012, Prime Minister Mike Eman and entrepreneur Richard Branson announced a partnership between Aruba and the Carbon War Room, an initiative that seeks to reduce global carbon emission. The partnership will transition the island to 100 percent renewable energy while eliminating any reliance on fossil fuels and will create a model for other countries to replicate.
"The opportunities for renewable development on Aruba are really extraordinary...Aruba could truly be a model to the world in terms of a sustainable place to live and work," says Harvard Professor George Baker.
Aruba's private sector is also committed to preserving and protecting the environment, which is evident in the island's several certified and sustainable hotel and resort properties. EarthCheck, the premier international certification alliance for sustainable travel and tourism, complies with the Intergovernmental Panel for Climate Change (IPCC) Guidelines for National Greenhouse Gas Inventories, the World Business Council for Sustainable Development (WBCSD) Greenhouse Gas Protocol, and the International Organization for Standardization (ISO) 114064 range of standards for greenhouse gas accounting. To date, six resorts on-island are certified by EarthCheck and eight are on the road to achieving certification.
In addition to pursuing alternative energy initiatives, locals and visitors alike join together for the Aruba Reef Care Project, the island's largest volunteer environmental initiative. The project has attracted more than 800 people annually since 1994 and results in cleaner reefs, public beaches and shallow waters.
Bianca Peters, a Dutch expert in sustainability in Aruba's Department of General Affairs, commends the One happy island's green initiatives and the probability for significant global impact: "I decided to come here because of how the people in Aruba think. The energy here is amazing, we can make things happen—especially sustainability—because of the scale of the island, all the natural elements Aruba has, and the enthusiasm of the people living here. I believe living sustainably is the future for the world."
For more information on Aruba's sustainability efforts, visit the new www.Aruba.com. Engage with Aruba via social media at www.facebook.com/ArubaFans or @ArubaTourism.
About Aruba
As one of the most revisited destinations in the Caribbean, Aruba -- One Happy Island -- is an island of contradictions, where pristine turquoise waters collide against the desert-like terrain of the north shore; where peace and relaxation coexist with wild and rugged adventures; where Dutch influence meets American ease; and where a diverse history parallels a bright future. Nestled in the Southern Caribbean on the fringes of the hurricane belt, the island is just a two-and-a-half hour flight from Miami and a four-hour flight from New York City and also boasts year-round cooling trade winds and an average 82 degree temperature. Aruba offers beach lovers, adrenaline junkies, relaxation seekers and everyone in between a slice of paradise, including breathtaking beaches, a booming culinary scene, world famous festivals and events, exciting land and water activities, art galleries and museums, sumptuous spas, championships golf and exclusive shopping. With all-inclusive resorts, boutique hotels in charming Eagle Beach, high-rise branded hotels in Palm Beach or a cosmopolitan city hotel in Oranjestad, the island of contradictions provides the perfect getaway for first-time guests and loyal visitors. www.aruba.com.
Featured Product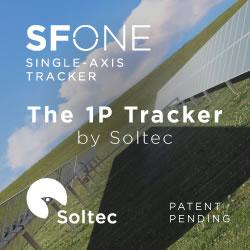 Soltec manufactures and supplies solar trackers designed and proven for extreme climate conditions, which is an ideal solution for any region's environment. Soltec's trackers are self-powered, requiring no additional PV module or grid-powered connection. Bifacial modules collect energy on both the front and rear sides, capturing reflected irradiance from the ground surface under and around the tracker and from other modules. Depending on site conditions, bifacial yield-gain can reach +30 percent.