Greatest growth in will be in Asia as fuel cell technology continues to evolve and Kyoto-driven alternative energy gains traction.
Toronto, Ontario June 26, 2013

EDI Weekly, the concise digest of industry's most compelling news and events, reports that the worldwide market for fuel cells, both for stationary and automotive applications, will more than double in the coming five years, according to a report. Japan and South Korea are two of the main drivers in this market, particularly in stationary industrial applications. And the organization representing the Canadian hydrogen fuel cell industry has signed a memorandum of understanding with its Scottish counterpart to cooperate in trade and development. Meanwhile, with the 2013 edition of the Paris Air Show wrapped up, BMO Capital Markets predicts strong growth ahead for the aerospace industry, with China and the UAE providing the biggest demand impetus. And there is another warning, this one from the Conference Board of Canada, that Canada's energy sector has some big challenges to face, especially the growth in oil and gas production south of the border.
"Fuel cell market will double in five years: report"
Strong growth in Asia, particularly in Japan and South Korea, will help push the global hydrogen fuel cell market from revenue of $613 billion today to more than $2 billion by 2018, a report from Markets and Markets says. Growing use in stationary industrial applications, especially as backup power sources for data centres and the telecommunications industry is behind much of the growth. Researchers around the world are focused on finding cost-effective alternatives to the expensive platinum used as a catalyst in most hydrogen fuel cell units. An international conference on the subject was held in Canada last week, and Scotland and Canada signed an agreement to cooperate on trade and technology as they work to develop better fuel cell technology. Scotland has the goal of becoming carbon free in its electrical generation by the year 2020. Read more. . .
The aerospace industry is showing signs of new momentum after several years of stagnation, says BMO Capital Markets. Growth in the industry is forecast to be in the range of 5 per cent through 2016. Much of the growth will come from demand in China and the United Arab Emirates. Canada is now ranked fifth in the world for aerospace revenue, while the United States alone accounts for nearly half of all revenues worldwide. Canada's Bombardier has experienced new growth in corporate demand, benefiting to some degree from its new, more fuel-efficient offerings at a time when world airlines are looking for ways to cut costs. Read more ...
"US energy self-reliance, pipeline uncertainty put Canada's energy sector at risk"
There have been many warnings in recent months that Canada's future as an energy power could be jeopardized by an over-reliance on the single US market, and the failure to maintain adequate infrastructure for transporting oil and gas. The Conference Board of Canada adds to these warnings in its latest profiles of Canadian industry. The unexpected emergence of the United States as an exporter of oil and gas, after a surge in production of light crude and gas, poses a huge challenge to Canada. As the United States needs to import less oil and gas, Canada could be left without its biggest market. And delays in constructing pipelines like the Keystone XL and the Northern Gateway will only exacerbate the problem. Canada, the report says, needs to diversify its markets, but it must have the infrastructure in place to let that happen. Read more . . .
About EDI Weekly
EDI Weekly is a digest of industry news from around the world, covering
*Aerospace industry
*Automotive industry
*Green and environmental technologies industry
*Energy industry including oil & gas
*General manufacturing innovations and news
EDI Weekly is a publication of Zines Online, a Persona Corp service.
Featured Product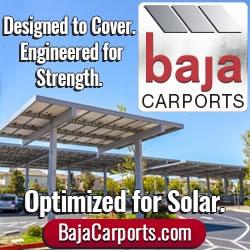 Baja Carports offers an extensive solar support system product line customized to customers' site specifications by in-house engineers, meeting their parking lot coverage, plus optimal PV production needs. Baja's Full Cantilever Tee is often paired with its Semi and Full Cantilever carports to meet live/loads up to 60psf and wind speeds to 160mph. All Baja products are pre-fabricated, bolted connections, pre-galvanized structural steel for fast on-site installation and project aesthetic requirements."