Enables Individuals to Support Solar on Schools While Earning 5.4% Annually
FEDERAL HEIGHTS, CO (July 11, 2013) Distributed Sun LLC (D-Sun), an

enterprise level solar project development, finance and advisory services
platform serving the Fortune 500, and Mosaic, an online marketplace that
connects investors to high-quality solar projects, today announced their
first joint project to allow individuals to invest in a 657 kW solar
installation on a charter school in Colorado and earn an estimated 5.4%
annually.
Mosaic plans to leverage Distributed Sun's leading solar development
platform, the Distributed Solar NetworkT, to scale its crowdsourced
financing model. Mosaic is pleased to work with D-SUN's network of more than
115 solar installers in 28 states developing more than 120 MW of projects
per month.
"We are honored to partner with Pinnacle Charter School and Mosaic to
commission this installation in Colorado, a vibrant solar market," says
Chase Weir, CEO of D-Sun. "It's a real honor to provide a service that
creates jobs, delivers substantial savings to our partners, teaches students
about clean energy and is beneficial for the environment."
"Mosaic is thrilled to partner with D-Sun and open up more of these types of
good investment opportunities to the public," said Dan Rosen, CEO of Mosaic.
"As we go forward together as partners under the truSolarT initiative, an
emerging standard for assessing solar project risk, we look forward to
announcing deeper collaborations with D-Sun in the months ahead."
The 657 kW solar system powers one of the largest public charter schools in
Colorado while serving as an educational tool for over 2,000 students. The
Pinnacle Charter School has served Northern Denver's diverse community for
nearly two decades with committed teachers and data-driven instruction. The
solar project generates revenue by selling the electricity produced to the
school and by selling the associated renewable energy credits to the local
utility. Pinnacle's solar project could save the school as much as $1.6
million in electricity costs over the lifetime of the project while teaching
thousands of K-12 students about clean energy.
ABOUT MOSAIC
Mosaic is an online marketplace that connects investors to high-quality
solar projects. Mosaic's mission is to open up clean energy investing to the
public and fundamentally change the way energy is financed. To date, Mosaic
has raised $3M from more than 1,800 investors to finance solar projects in
California, Arizona, Florida and New Jersey. For more information about
Mosaic visit www.joinmosaic.com.
ABOUT DISTRIBUTED SUN
D-Sun is a nationally recognized solar and micro-grid project development
and finance services platform serving the commercial and industrial market
segments. D-Sun develops, finances, constructs, owns and operates commercial
scale solar energy systems throughout the United States. D-Sun represents
capital sources seeking to deploy over $1B of project finance in the
commercial & industrial sector over the course of 2013 and 2014. For more
information visit www.distributedsun.com.
ABOUT PINNACLE
The Pinnacle Charter School is one of Colorado's largest K-12 charter
schools proudly serving North Denver's diverse community. Pinnacle provides
academic excellence through highly qualified teachers, data-driven
instruction, and the application of Core Knowledge to enhance Colorado
academic standards. For more information about Pinnacle visit
www.thepinnacleweb.org.
ABOUT truSolarT - truSolarT is an industry-driven, accessible standard
credit screen for commercial and industrial photovoltaic project screening,
underwriting and approval via a comprehensive assessment of risk to enable
broader access to lower cost capital. For more information about truSolarT
and the truSolarT Working Group visit
www.trusolarscore.com.
Featured Product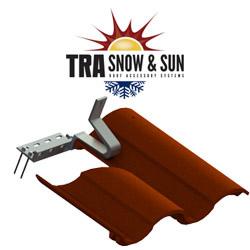 You haven't installed a tile mount that is easier to install than the Solar Tile Mount manufactured by TRA Snow and Sun. Solar Tile Mount is used on all tile roof profiles: flat, mid, and high. It is made in the USA of aluminum alloy for strength and excellent corrosion resistance. Solar Tile Mount is built to allow more ease in installation with more rise from the tile surface to the rail for better air flow below panels. The adjustable base is longer than most allowing attachment 6" to the left or right to have the bracket in the base of the pan of the tile and still fasten to the rafter. Solar Tile Mount is adjustable for counter batten systems from ¾" to 3". The horizontal rail is directly above base fasteners giving greater uplift resistance than any other system. For superior waterproofing apply TRA Snow and Sun's butyl backed VersaFlash aluminum flashing. No tile flashing is needed on top of the tile for greater labor and material cost savings.