The European Parliament Environment Committee has voted today [1] in favour of proposals which will damage a significant part of the current investment in the UK biofuels industry and raise the costs of meeting renewable energy and climate change objectives.

The Committee's vote on proposals to deal with possible greenhouse gas (GHG) emissions from indirect land use change (ILUC) found 43-26 in favour of a 5.5% cap on transport from all land-based biofuels, and the incorporation of controversial 'ILUC factors' into the accounting of GHG emissions for biofuels under the Fuel Quality and Renewable Energy Directives. The proposals voted in today will be put to the Plenary of the European Parliament in the autumn. The Industry, Research and Energy Committee (ITRE) will be able to introduce amendments at this stage.
REA Head of Renewable Transport Clare Wenner said:
"Today's vote is very disappointing for so much of the UK biofuels industry. It will ensure that fossil fuels continue to dominate transport for the foreseeable future and it will reduce the stimulus for investments in improving agricultural yields and practices. These final proposals are a conceptually flawed attempt to force European biofuel developers to pay for the assumed emissions of other industries in other regions of the world. They will put committed investments in agricultural biofuels and future investments in advanced biofuels at extreme risk across Europe – as well as all the jobs that go with them. So-called green campaigners have well and truly shot themselves in the foot with this pyrrhic victory."
Featured Product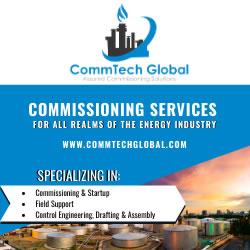 CommTech Global Solutions, LLC, provides professional and reliable commissioning services to customers in all realms of the energy industry. We blend our skills in engineering and technology with innovative business models, offering a complete range of services to assist you for a successful and in compliance operational startup. Consolidation of all our service domains gives our clients a comprehensive set of expertise and far-reaching experience on each project.