Clients in Paraguayan Chaco choose 490 Wp sun2flow kit to save costs
Zug/Asunción. meeco América Latina S.A., a subsidiary of the Swiss meeco Group, has sold the first

four 490 Wp pre-assembled sun2flow kits to ranchers based in the region of Chaco, Paraguay. These
ready-to-use kits, destined in their majority to pump drinking water for cattle, are composed of water
pumping technology combined with a solar photovoltaic (PV) system and can be easily installed by the
client himself (shop and go principle).
Having sold and installed fixed and mobile sun2flow water pumping solutions in the past two years,
meeco América Latina S.A. brings a high quality whilst affordable and do it yourself option to the
market with the introduction of the sun2flow kits.
Composed of two 245 Wp Lightway polycrystalline solar modules, a submersible pump and optional accessories such as a meeco-engineered pump flotation device, a PV supporting structure or water ventilation systems, the standard kit can generate
approximately 740 kWh per year. In addition, the sun2flow kit can pump up to 25.000 Liters a day
over an elevation of 20 meters and thus supply the water required by 500 head of cattle.
Starting at 10.500.000 Gs or 1.800 Euro, a standard sun2flow kit can be installed by the client in a
few hours time, thus saving installation costs. The installation can be namely simplified with the use
of pre-assembled meeco substructures or floating devices. One of the most recurrent application
scenarios for this kind of kit in Paraguay is to pump surface water using a floating water pump into a
water tank situated 10 meters above the water surface.
This over-the-counter kit solution designed by The meeco Group also meets a growing demand in the
Latin American neighboring nations. 'There is a rising demand for smaller systems in countries such
as Brazil, Argentina and Bolivia that the sun2flow kit can fulfill,' says Dr. Oliver Jann, President of
meeco América Latina S.A. 'Our kit solution has the potential to replace the traditional windmill driven
mechanical pumps, which in comparison have less performance, are more expensive, and much more
prone to failure,' adds Dr. Jann.
About The meeco Group: The meeco Group was consolidated in 2000 and oriented its main focus
towards the energy sector. With world headquarters located in Zug, Switzerland, the group currently
has over 50 employees working across 4 continents. Thanks to a structured but flexible approach
based on its core competencies, meeco has delivered over 320 MW of clean, renewable energy
solutions across four continents. The meeco Group accomplishes its mission by providing project
developers, investors, governments, and private businesses with the services necessary for timely
financing, installation, and operation of clean energy assets.
For further information visit: www.meeco.net
Featured Product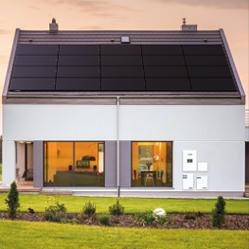 The Q.Home+ ESS HYB-G1 energy storage solution offers scalable storage capacity from 4.5 kWh up to 18.9 kWh and comes in a modular design for easy and fast installation. The system is offered in both DC-coupled and AC-coupled configurations and can connect up to 3 batteries in series using only one inverter and battery management system (BMS). The system includes an integrated backup power function for 100% of the rated inverter output to support critical loads in the event of power failure and offers remote monitoring using the QHOME+ web portal or QHOME+ ESS mobile app.