Across America Mission an Important Milestone both in the Air and on the Ground
LAUSANNE, July 19, 2013 – A revolutionary solar airplane built in Switzerland by a private civilian team successfully flew across the USA in six legs covering more than 3500 miles despite being confronted with weather challenges and damage to the wing on its final flight. Solar Impulse, the first airplane ever to fly day and night on solar energy only, once again proved the reliability and efficiency of clean technologies. With each stop along the way, the project and its Co-Founders, Bertrand Piccard and André Borschberg, captured the hearts and minds of supporters. With 75.000 people visiting the plane or meeting the pilots over a 10-week period, 5 million people following the flights live and 8.3 billion media impressions, the Across America Mission Flights illustrated an overwhelming response to the promotion of clean technologies and renewable energies.

In addition to setting a new milestone in the history of aviation by being the first solar-powered plane to fly day and night across the USA without using a single drop of fuel, the success of Solar Impulse also marks a series of historical and technological firsts in the field of energy efficiency and renewable energy.
Solar Impulse flew 3511miles with a total flight time of 105 hours, 41minutes. From San Francisco, Bertrand Piccard and André Borschberg alternately flew Solar Impulse to Phoenix, Dallas-Fort Worth, St. Louis, Cincinnati, Washington D.C. and New York City. Flying from Phoenix to Dallas-Fort Worth, Solar Impulse broke the world distance record in the solar aviation category of the FAI (936 miles / 1506 km).
The success of the mission can also be measured on the ground:
- Both in the USA and abroad, Solar Impulse generated over 8.3 billion media impressions
- 5 million unique visitors followed Solar Impulse live broadcast on www.solarimpulse.com website (50 million hits and 19 million page views)
- Active web and social media presence: Solar Impulse was featured on Google home page USA for the last leg and a Google Hang Out at 10'000 feet during the flight to New York with film director James Cameron, Erik Lindbergh (the grandson of Charles Lindbergh) and American jazz pianist ELEW
- 75'000 people were directly exposed to the project, either through visits to the airplane or participation in presentations given by the project's Co-Founders
- Over 50 promotional and educational events were organized throughout the mission
Key political, business and opinion leaders like US Secretary of Energy Ernest Moniz, Google CEO Larry Page, founder of Virgin Group Richard Branson, Arizona Governor Jan Brewer, Apollo 7 astronaut Walter Cunningham, Governor of Missouri Jay Nixon, rock & roll pioneer Chuck Berry, were amongst the dignitaries and celebrities who came to visit the airplane. In New York City, Solar Impulse Co-Founders were welcomed by UN Secretary General Ban Ki-Moon and invited to give a presentation to the United Nations.
The journey was also filled with numerous challenges, often putting the team in situations never encountered before. The landing in Dallas was particularly difficult as Solar Impulse had to face strong winds that equaled the approach speed of the plane; in St. Louis it was the first time that the team had to operate with its inflatable mobile structure after a storm destroyed the hangar that should have hosted Solar Impulse; strong winds also forced Solar Impulse to make an unforeseen pit stop in Cincinnati before reaching Washington; and finally, an 8 feet / 2.5 meters tear appeared on the fabric on the underside of the left wing during the flight to New York, forcing the plane to land earlier than planned and potentially jeopardizing the final leg.
As in every pioneering endeavor, the team had to show resourcefulness and flexibility in order to adapt constantly to unforeseen situations, whereas the plane, once again, proved its reliability and reaffirmed the efficiency of clean technologies.
ACROSS AMERICA RECAP
The "Across America" mission at a glance:
· 03 May 2013: First leg San Francisco/Moffett Airfield – Phoenix/Sky Harbor
Pilot: Bertrand Piccard, Initiator and Chairman
· 22 May 2013: Second leg Phoenix/Sky Harbor – Dallas/Fort Worth
Pilot: André Borschberg, Co-Founder and CEO
· 03 June 2013: Third leg Dallas/Fort Worth – St. Louis/Lambert Airport
Pilot: Bertrand Piccard
· 14 June 2013: Fourth leg St. Louis/Lambert Airport – Cincinnati/Lunken as Pit Stop
Pilot: André Borschberg
· 15 June 2013: Fifth leg Cincinnati/Lunken - Washington DC/Dulles
Pilot: Bertrand Piccard
· 06 July 2013: Sixth and last leg Washington DC/Dulles – New York/JFK
Pilot: André Borschberg
Detailed flights reports are available on the website: http://www.solarimpulse.com/en/across-america/.
PARTNERSHIPS
The operation was financed by Solar Impulse's Across America mission partners Solvay, Schindler, Bayer Material Science, Swiss Re Corporate Solutions, Sunpower and the Swiss Confederation.
This mission was also the occasion to establish and put into place several interesting technical and content applications in cooperation and with the support of Google, Yahoo and Akamai.
WHAT'S NEXT
The second airplane, HB-SIB is in its final stages of construction. It will be assembled at the beginning of 2014 and flight tests will follow later on. The ultimate goal is to fly it around the world in 2015.
HB-SIA the airplane which flew across America will be dismantled at JFK and shipped in a jumbo jet across the Atlantic back to Switzerland on Monday, August 5. It will then be stored in Dübendorf (Switzerland) and kept in a protected environment in flying conditions.
Featured Product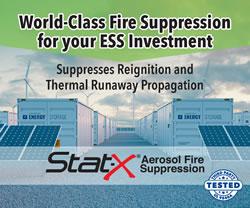 Stat-X® condensed aerosol fire suppression is a solution for energy storage systems (ESS) and battery energy storage systems (BESS) applications. Our Stat-X condensed aerosol fire extinguishing product was tested for efficacy in suppressing li-ion battery fires. It was found that the product successfully extinguished single and double cell battery fires. This testing was conducted in parallel with a large battery fire testing program on behalf of a large energy storage company.