GSLC175-AC AC coupled solution partners with a more advanced inverter/charger to create higher-performing backup power for existing PV systems
Arlington, Wash. – July 8, 2013 – OutBack Power Technologies, Inc., a designer and manufacturer of advanced power electronics for renewable energy, backup power and mobile applications, today announced the general availability of its FLEXcoupled AC coupling solution. The integrated system allows installers to more easily retrofit grid-tied solar power systems with advanced grid-hybrid capability, enabling owners to store energy from their PV systems while tied to the grid and use it during utility outages and emergencies.

For owners of grid-tied systems, the AC Coupling GSLC175 system from OutBack Power delivers all of the energy storage benefits of grid-hybrid systems in an advanced, electro-mechanical solution that is cleaner, more compact, better performing and less expensive than competing options.
Energy-storage-based systems represent the largest growth area in solar installations today, but for the many owners of grid-tied, grid-dependent systems that don't deliver electricity when the utility goes down, AC coupling is increasingly a viable option to maximize existing PV system investments by adding backup power functionality. With grid failure and instability on the rise and so-called 100-year storms now annual events, energy storage is essential to provide true power reliability and independence.
OutBack Power's AC coupling system is unique in that its foundation is the Radian inverter/charger which already incorporates desirable AC coupling features including split-phase capability, dual AC inputs, transfer switching, power management flexibility, multiple operational modes for a wide range of energy scenarios, and greater dynamic stability. This enables a more elegant, advanced electro-mechanical coupling center (the GSLC 175-AC-120/240) to achieve AC coupling instead of relying on costly, complex frequency circuitry, transformers and diversion loads used in some conventional systems. Since the OutBack approach is more cost-effective, it enables users to allocate budget for professional-grade energy storage with Energy Cell GH batteries instead of the minimalistic batteries and boxes that are bundled into multi-brand systems. AC coupling from OutBack Power is UL1741-compliant from end-to-end, and it creates generator-friendly battery backup power for existing grid-tied inverter systems.
"OutBack Power's AC coupling system allows us to increase storage capacity for customers and ensure that they don't leave any PV power on the roof, regardless of the grid's status," said Jeff Shaw, owner of Gulf South Solar, an OutBack Power installer. "Our company is seeing interest from grid-tied system owners who are considering updating their systems to gain grid-hybrid advantages. This mirrors the forecasted growth for the AC coupling market over the next 10 years."
Harvey Wilkinson, general manager of OutBack Power, said, "The owners of grid-tied solar power systems know how frustrating it is when the traditional utility goes down; they generate enough renewable energy to power their critical needs, but without the right bi-directional inverter and storage solution, their properties go dark when the grid fails. AC coupling from OutBack Power gives homeowners and businesses who've invested in solar energy the option to better manage their electricity and gain off-grid independence during outages, thus contributing to greater grid utilization and stability."
For more information:
AC Coupling Spec Sheet: http://bit.ly/12dUszu
OutBack Power on Facebook: http://on.fb.me/X6fQJl
OutBack Power on Twitter: http://bit.ly/WmhFhs
About OutBack Power Technologies
OutBack Power Technologies, a member of The Alpha Group, is the leading designer and manufacturer of advanced power electronics for renewable energy, backup power and mobile applications. With an emphasis on product performance, OutBack has established itself as the product of choice in harsh environmental conditions and applications where product reliability is paramount. Whether the application is village microgrids in Africa, rural electrification projects in Latin America, remote off-grid cabins in Alaska or suburban homes in Southern California, OutBack Power Technologies has set the bar for delivering advanced power conversion electronics. For more information, please visit www.outbackpower.com.
Featured Product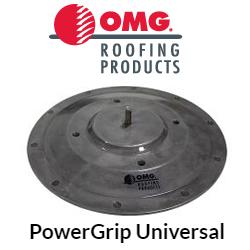 Eliminate Solar Rack Ballast and Reduce Rooftop Material Handling. PowerGrip™ Universal (PGU) is a commercial roof mount system designed to secure solar racks and other equipment to any type of commercial roofing system. PGU provides a secure connection directly to the roof deck or structural members and is designed to reduce or eliminate ballast in solar racking systems, so there's less weight on the roof and less material handling. Made of heavy-duty cast aluminum, PGU units include a base ring which is secured through the roofing cover and into the structural roof deck, and a waterproof top plate.