KLC manufactures a solar panel system known as Smart Solar Tracking System (the "Tracker").
UNIONDALE, N.Y.--Solar Thin Films, Inc (OTC Markets: SLTZ) (the "Company"), an environmentally conscious company working to bring new products to market with a strong focus on Fiber Reinforced Plastics technology (FRP), as well as waste to energy and solar energy, announced today an agreement, subject to final documentation, to acquire 100% of KLC Green Energy Corp ("KLC").

KLC manufactures a solar panel system known as Smart Solar Tracking System (the "Tracker"). The unique feature of the Tracker is that the solar panel changes position in response to the movement of the sun in relation to the earth; in essence, following the sun's path. This feature allows for a 50% increase in the amount of energy produced by the panel and has many applications, including outdoor lighting for walkways, property lighting, etc. and can be used in both stand-alone and networked lighting applications.
The parties have agreed to finalize the agreement within 30 days. The acquisition includes 100% of KLC including a small amount of work in progress, as well as inventory. The terms of the acquisition will be reported when the definitive agreement is signed by both parties.
James Solano, Chief Executive Officer of the Company stated, "The acquisition of KLC is a small but important transaction for us, as it adds significantly to our line of innovative products. For instance, we intend to use the Tracker in the school project we recently announced in Uganda. We are also pursuing opportunities where significant numbers of the Tracker could be used, such as golf course lighting. I am amazed at the growing interest in evening and night-time golfing."
About Solar-Thin Films, Inc.
Through its wholly-owned subsidiary Quality Resource Technologies, Inc., the Company is focused on developing its business in three areas: (1) developing and manufacturing shipping containers using patented Fiber Reinforced Plastics (FRP) technology, (2) building housing using patented FRP technology and (3) developing waste to energy and solar energy projects.
Featured Product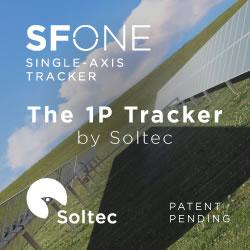 Soltec manufactures and supplies solar trackers designed and proven for extreme climate conditions, which is an ideal solution for any region's environment. Soltec's trackers are self-powered, requiring no additional PV module or grid-powered connection. Bifacial modules collect energy on both the front and rear sides, capturing reflected irradiance from the ground surface under and around the tracker and from other modules. Depending on site conditions, bifacial yield-gain can reach +30 percent.