The state-of-the-art battery system helps buffer the electrical grid from the uneven power demands of EV charging while providing enough capacity to charge two vehicles in case of a power outage.
August 20, 2013– AllCell Technologies and Windfree announced the completion of the Chicago area's first lithium-ion energy storage system connected to a solar powered electric vehicle (EV) charging station. The state-of-the-art battery system helps buffer the electrical grid from the uneven power demands of EV charging while providing enough capacity to charge two vehicles in case of a power outage. Equipped with AllCell's proprietary thermal management technology, the battery is continuously protected from overheating to ensure safety and prolonged battery life.

Development of the Evanston, IL based project was managed by Windfree, and includes a 10 kilowatt solar canopy, 40 kilowatt-hour battery system, and two Level II charging stations. One of the charging stations is used exclusively by car sharing firm I-GO, while the other is available to the public. Alternative Transportation for Chicagoland owns the installation, and other project partners included architects Farr Associates and Continental Electric Construction Company.
"As more and more electric vehicles are sold each year, the strains on the electrical grid will continue to increase," said AllCell CEO Said Al-Hallaj. "The combination of on-site generation and on-site storage co-located with EV charging stations will be a critical part of ensuring that continued growth in the EV market doesn't disrupt the normal operation of the electrical grid."
According to WindFree President Doug Snower, "The combination of advanced battery technology incorporated with our solar canopy EV charging stations make this a dream project for Windfree. We look forward to sharing open source data through a web base monitoring portal that will demonstrate utility infrastructure benefits and energy savings."
About AllCell Technologies
AllCell Technologies (www.allcelltech.com) designs and manufactures lithium-ion battery packs for transportation and renewable energy applications. The company's patented thermal management technology allows production of compact, lightweight, and long-lasting batteries. AllCell's thermal management technology is based on the use of phase change materials (PCM) to surround each lithium-ion cell, absorbing and conducting heat away to dramatically extend the life of the cells and prevent fire or damage to the battery. AllCell's products avoid the need for expensive, complicated, and inefficient active thermal management systems, replacing pumps, motors, and hoses with an elegant passive system that requires no energy to operate and has no moving parts.
About Windfree
WindFree was founded by a team of creative energy visionaries and early adopters of sustainable technologies. WindFree collaborates with educational institutions, businesses, government agencies, non-profits and homeowners to foster awareness about alternate sources of energy. WindFree's team includes LEED associates, certified WBE women owned businesses, architectural, artistic, and business leaders. The team believes alternative energy solutions must be researched, installed, monitored, tested, and supported. They continue to research the best available products, equipment, and services required to put the power of wind and solar energy into the hands of everyone.
Featured Product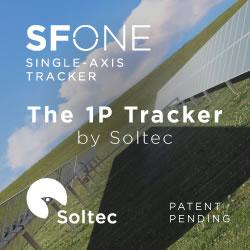 Soltec manufactures and supplies solar trackers designed and proven for extreme climate conditions, which is an ideal solution for any region's environment. Soltec's trackers are self-powered, requiring no additional PV module or grid-powered connection. Bifacial modules collect energy on both the front and rear sides, capturing reflected irradiance from the ground surface under and around the tracker and from other modules. Depending on site conditions, bifacial yield-gain can reach +30 percent.