French utility finish a photovoltaic project in Mojave desert, California.
French Utility, EDF Energies Nouvelles, announced this Monday the implementation of the photovoltaic plant of Catalina through its American branch, EDF Renewable Energy. The construction of the photovoltaic plant started in May 2012 and started to be operational by December 2012. The plant has a 143 MW capacity and is located in the Mojave Desert in California. The solar plant is 360 hectares long and is strategically located in the area of mounts Piute and Tehachapi. This location enjoys a great amount of sunshine all year long.

With over 1.1 million of thin solar PV, this project is the biggest solar plant project of the French company. The Catalina solar plant is now the 8th biggest photovoltaic plant in terms of solar capacity. The Catalina solar plant will provide solar energy to San Diego Gas and Electric Company through a 25 years contract. EDF Nouvelles Energies' American subsidiary, EDF Renewable Energy, will ensure the operation and maintenance of the photovoltaic plant.
"This symbolic achievement, built in an ideal environment for the production of solar energy is a new standard to continue our international expansion in geographical area with high sunshine where production and consumption overlap," said Antoine Cahuzac, CEO of EDF Energies Nouvelles. "The implementation in a limited time of this flagship project demonstrates the expertise and commitment of our teams."
EDF Energies Nouvelles stated that they have now developed and built more than 1 GW of solar capacity project in the world.
- Greenshine New Energy provides high quality solar powered street lights and parking lot lights
Featured Product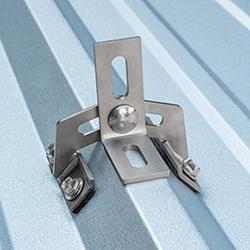 Error-Proof Compression: The QB2 doesn't leave any room for user error when it comes to Microflashing® compression. Once the Dual Drive Shoulder Screw is secured, the Microflashing® is compressed. Only 3 Components: The QB2 is comprised of Microflashing®, an L-foot and a Dual Drive Shoulder Screw. No more Nuts needed to tighten and secure the L-foot! Not only does this simplify the installation process, it also cuts down the installation time.