Solar innovator unveils optimized solar collector, energy storage capabilities at SolarPACES
BURBANK, Calif.--eSolar®, a leading developer of modular, scalable concentrating solar power (CSP) technology, is unveiling two new product offerings during the 2013 SolarPACES conference, being held Sept. 17-20 in Las Vegas, Nev. Today's news comes on the heels of eSolar's $22 million funding tranche to support expansion into the Middle East and North Africa, where the company's technology can generate steam for enhanced oil recovery (EOR) operations as well as desalination and industrial process heat applications.

eSolar Project Manager Plazi Ricklin will showcase the company's new heliostat offering, the SCS5, during the "Solar Collectors" conference session on Tuesday, Sept. 17 at 11:30 a.m. PT. Expanding upon eSolar's time-tested approach to solar collection, the SCS5 offers a more simplified design and enhanced reliability to reduce total installed solar collection system cost by more than a third. SCS5 will be commercially available in early 2014.
"We've made the case for our small, factory-built heliostats in high-density solar fields around the world," said John Van Scoter, CEO of eSolar. "Today, we're raising the bar with our reimagined SCS5 design, which promises to significantly improve project economics for the global CSP market."
eSolar will also unveil its molten salt power tower with energy storage capabilities during the SolarPACES conference. eSolar Fellow Craig Tyner will present the design during the "CSP Systems" session on Wednesday, Sept. 18 at 11:10 a.m. PT. This scalable solution can be implemented for peaking power plant applications through large baseload plants, and with minimal scale-up risk. Additionally, thanks to a modular design, power towers can be easily replicated at project sites to create plants as large as 200 MW with up to 75-percent capacity factor. This means storage enables the plant to deliver its full power output 75 percent of the time compared to typically less than 30 percent for systems without storage.
"In addition to enabling firm power on-demand, our molten salt plants also allow system operators to reuse produced water from oilfields, which creates a particularly attractive offering for the solar EOR industry, even in a 24/7 operating configuration," continued Van Scoter.
About eSolar
eSolar was founded in 2007 to develop modular and scalable solar thermal power plant technology. The eSolar solution marries a low-impact, pre-fabricated form factor with advanced computer software engineering yielding break-through cost reductions for the solar collector system. eSolar's highly efficient power tower design meets the demand for reliable, dispatchable and cost competitive solar power, and is well-suited for non-power generating markets, such as enhanced oil recovery, water desalination and industrial process heat applications. eSolar is based in Burbank, California. For more information, please visit www.esolar.com
Featured Product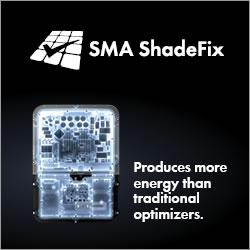 A recent university study showed SMA ShadeFix optimization produces more energy than traditional optimizers. It also utilizes far fewer components, reducing the need for costly service visits. Systems with ShadeFix optimization and SunSpec certified shutdown devices are the ideal solution for residential and commercial PV systems. Visit SMA's website to learn more and download the whitepaper.