Centre for Management Technology's (CMT) 6th Algae World Asia, to be held in Bangkok, Thailand on 28-29 October 2013, will examine prospects and challenges of high performance chemicals as well as fuels from algae.
Value addition in Algae chain has now moved beyond bio fuels to cover a host of high value products for a wide range of applications. Rapid strides in technologies that enable conversion to a wide variety of therapeutic products, proteins, nutrients, colorants and plastics have opened up immense growth opportunities in global algae business. CMT's 6th Algae World Asia brings together leading experts and industry players in algae value chain, to identify, assess, thus evaluate prospects and challenges of high performance chemicals as well as fuels from algae.

Dr Jason Pyle of Triton Health and Nutrition will assess commercial models for algae based protein manufacture while Dr Motonari Shibakami (AIST) will analyse breakthroughs in bioplastics from algae. Expert briefings on Dunaliella's Glycerol production by Professor Ami Ben Amotz, commercial production of Astaxanthin by Dr Oran Ayalon from AlgaTechnologies and Tony Dowd from Asta Supreme, form the backdrop of new avenues in high value products from algae. Novel cosmetic products from algae by Heliae Development LLC and omega 3 enriched oil from algae by Fermentalg SA will provide techno economic insights into these new opportunities.
On the technology front the 6th Algae World Asia also examines production of algae oil using Hydro Thermal Liquefaction (HTL) technology by Loxley Public Co. Ltd., Biomass conversion technologies by NXT Fuels, Marine bioenergy project, and Korea's governmental project on developing a novel technology for large-scale microalgal cultures in ocean. The conference also assesses advances in Indonesian and Indian algae based projects.
Specially added to the agenda this year is a 2 hour exclusive visit to Thailand Institute of Scientific and Technological Research (TISTR) Technopolis to tour TISTR's Algal R&D facilities including Algal Culture Collection, PBRs and outdoor cultivation systems. The site visit is optional and open for reservations to registered delegates only.
For details on other topics and speakers, visit the 6th Algae World Asia website. For queries and registration matters, contact Ms. Huiyan at Tel: 65 6346 9113.
Featured Product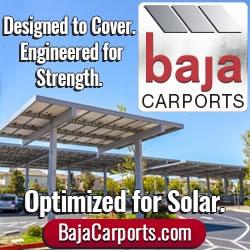 Baja Carports offers an extensive solar support system product line customized to customers' site specifications by in-house engineers, meeting their parking lot coverage, plus optimal PV production needs. Baja's Full Cantilever Tee is often paired with its Semi and Full Cantilever carports to meet live/loads up to 60psf and wind speeds to 160mph. All Baja products are pre-fabricated, bolted connections, pre-galvanized structural steel for fast on-site installation and project aesthetic requirements."