Blades to be produced at Siemens' Tillsonburg manufacturing facility
Siemens Canada has received an order from Samsung Renewable Energy, Inc. (Samsung) and

Pattern Energy Group LP (Pattern Development) for the Grand Renewable Wind Project.
Located in the County of Haldimand in southern Ontario, the Grand Renewable Energy Park
will consist of 100 MW of solar power and 150 MW of wind power. Under the agreement,
Siemens will supply, deliver and commission sixty-seven (67) SWT-2.3-101 wind turbines.
The deal also includes a three-year service and maintenance agreement.
All of the 49-metre wind turbine blades for the project will be manufactured at the Siemens
facility in Tillsonburg, Ontario, where blade production is currently running near capacity with
close to 275 employees. Towers and steel for the turbines will be sourced from CS Wind in
Windsor and Essar in Sault Ste. Marie as part of the commitment to the green energy
economy in the Province of Ontario. Deliveries to the project will begin in January 2014 and
commercial operation at the Grand Renewable Energy Park is expected to begin by fall of next
year.
The Grand Renewable Wind Project is the second Samsung and Pattern Development project
in Ontario under the Green Energy Investment Agreement for which Siemens Canada has
been selected to supply and commission wind turbines. Earlier this year Siemens was
awarded a 270-MW order for the South Kent Wind project in Chatham-Kent. Turbine blades
for that project began shipping to the site in July 2013 with the start of operation expected for
spring 2014.
QUOTES:
*"Siemens is proud to be a partner in the Grand Renewable Wind project as it represents a
significant contribution of the Green Energy Act and Green Energy Investment Agreement
to establishing and maintaining a green collar manufacturing and service economy in the
Province of Ontario."
– Jacob Andersen, Vice President Wind Power, Siemens Canada Limited
*"This project is part of Ontario's commitment to build a clean, modern, reliable electricity
system, while supporting good jobs in our renewable energy sector."
– The Honourable Bob Chiarelli, Ontario Minister of Energy
*"Samsung believes that renewable energy is a very important part of eliminating our
dependence on dirty coal production and protecting the air that we breathe. We are very
pleased that our investments are helping to create over 9,000 total jobs in communities
across Ontario that have been hit hard by the global recession."
– Ki-Jung Kim, Executive Vice President, Samsung C&T
*"We are proud to use Ontario-made turbines from Siemens in the Grand Renewable Wind
project, which is one of four wind projects we are building with locally-manufactured
turbines. These four new wind projects are bringing many benefits to Ontario, including new
jobs, tax revenue, economic stimulus, and clean power."
– Mike Garland, CEO, Pattern Development
Featured Product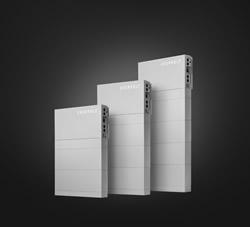 Optimize your solar investment and create a more resilient energy future. With EverVolt you can store your excess solar power for when you need it most or sell your surplus energy back to your local utility.