Alternative Utility Services, Inc. is now a member of PJM Interconnection.
Alternative Utility Services (AUS) has qualified for PJM Interconnection's Other Supplier membership sector as a power marketer. PJM is a Regional Transmission Operator, working to ensure that there are enough electric capacity resources available in their territory to meet the demand for electricity.

Other Supplier members are engaged in buying, selling or transmitting electric energy, capacity, ancillary services, financial transmission rights or other services available under PJM's governing documents, in or through the interconnection, or have a good faith intent to do so.
"As an Other Supplier member of PJM," said Fritz Kreiss, President of AUS, "we are able to develop and qualify projects into the generation capacity resource market and corresponding auctions."
PJM Interconnection coordinates the movement of wholesale electricity in all or parts of Delaware, Illinois, Indiana, Kentucky, Maryland, Michigan, New Jersey, North Carolina, Ohio, Pennsylvania, Tennessee, Virginia, West Virginia and the District of Columbia.
Alternative Utility Services, Inc., established 1993, is a licensed nationwide energy consulting company providing energy brokerage and aggregation services nationwide. AUS provides a wide range of professional procurement and consulting services including electric, gas, residential aggregation, reverse auction, demand response, auditing, benchmarking and developing energy projects. 800-392-4287 www.ausenergy.com
Featured Product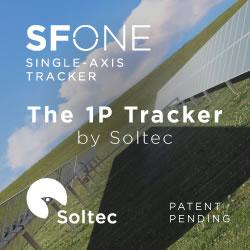 Soltec manufactures and supplies solar trackers designed and proven for extreme climate conditions, which is an ideal solution for any region's environment. Soltec's trackers are self-powered, requiring no additional PV module or grid-powered connection. Bifacial modules collect energy on both the front and rear sides, capturing reflected irradiance from the ground surface under and around the tracker and from other modules. Depending on site conditions, bifacial yield-gain can reach +30 percent.