Alternative Utility Services, Inc. is now a member of PJM Interconnection.
Alternative Utility Services (AUS) has qualified for PJM Interconnection's Other Supplier membership sector as a power marketer. PJM is a Regional Transmission Operator, working to ensure that there are enough electric capacity resources available in their territory to meet the demand for electricity.

Other Supplier members are engaged in buying, selling or transmitting electric energy, capacity, ancillary services, financial transmission rights or other services available under PJM's governing documents, in or through the interconnection, or have a good faith intent to do so.
"As an Other Supplier member of PJM," said Fritz Kreiss, President of AUS, "we are able to develop and qualify projects into the generation capacity resource market and corresponding auctions."
PJM Interconnection coordinates the movement of wholesale electricity in all or parts of Delaware, Illinois, Indiana, Kentucky, Maryland, Michigan, New Jersey, North Carolina, Ohio, Pennsylvania, Tennessee, Virginia, West Virginia and the District of Columbia.
Alternative Utility Services, Inc., established 1993, is a licensed nationwide energy consulting company providing energy brokerage and aggregation services nationwide. AUS provides a wide range of professional procurement and consulting services including electric, gas, residential aggregation, reverse auction, demand response, auditing, benchmarking and developing energy projects. 800-392-4287 www.ausenergy.com
Featured Product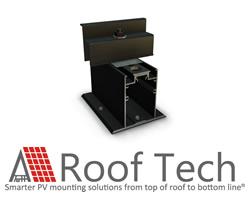 The most compact versatile rail-less PV mounting system under the sun. Instead of placing solar panels on top of long rails, simply attach E Mount AIR to rafters or the roof decking. Once panels are fastened to the roof, the system array is electrically bonded. The result is a visually seamless PV installation that stands the test of time. - Truly "One With The Roof". - PE stamped cert. letters available, UL 2703 Classified, ASTM 2140 fully waterproof. The one and only with integrated flexible flashing certified by the ICC! All the best quality. Only from Roof Tech