New company fills need for utility-scale solar plant owners across the country
CONCORD, Calif.ó MaxGen Energy Services, LLC, an independent, third-party power plant service provider specializing in commissioning, plant operations & maintenance and asset management, announced today a partnership with Signal Energy Constructors to provide operations and maintenance (O&M) services to more than 180 megawatts of solar PV facilities. Signal Energy is a leading design/build general contractor providing engineering, procurement and construction (EPC) services to the North American renewable energy industry.

"MaxGen's sole focus is maximizing power generation at power facilities, including onsite maintenance, data analysis and performance monitoring. We take the guess work out of power plant performance and can show our customers the real data," said Joe Brotherton, president of MaxGen.
O&M services have already begun at 60 megawatts of completed solar PV facilities built by Signal Energy. MaxGen will provide everyday monitoring, preventive and corrective maintenance, and warranty administration. MaxGen's operation center will monitor, diagnose and dispatch needed services. Max Gen will also provide O&M services to more than 125 megawatts of solar PV projects that Signal Energy has under construction.
"Our partnership with MaxGen is an extension of Signal Energy's turn-key solutions for utility scale solar projects," said Ben Fischer, CEO of Signal Energy. "Not only does Signal Energy help world-class developers bring large scale, innovative solar energy projects to market, but our partnership with MaxGen allows us take projects beyond completion to maximize power generation."
MaxGen's executive team, with over 50 years of combined experience in power plant O&M, launched the company in May of this year to fill a need in the solar industry. As solar construction boomed across the United States, owners and developers started looking for independent providers to protect their assets, solar power plants, by verifying and optimizing solar power plant production.
"Being able to work independently with a broad range of technologies and companies is very important to MaxGen. Our expertise is maximizing power plant production and that's a valuable service for any solar plant owner, builder or utility," added Brotherton.
Brotherton is a recognized expert in solar plant production and optimization; he's presented at Solar Power International, the Utility Scale PV Plant Optimization Summit and will speak at Solar Power Generation USA in February 2014.
About MaxGen Energy Services
MaxGen Energy Services, LLC is an independent, third-party, power plant service provider for all operating life stages of power plants. MaxGen's independence allows the company to work with a broad spectrum of technologies and across the solar value chain for companies such as banks, EPCs, owners, developers and utilities. With its main office located in Concord, CA, MaxGen has a nationwide presence of service technicians and partners. For more information visit: http://maxgenservices.com/
About Signal Energy Constructors
Signal Energy is a leading full service design/build contractor providing Engineering, Procurement and Construction (EPC) services for utility-scale renewable energy projects across North America. Signal Energy is the renewable energy subsidiary of EMJ Corporation. For more information visit: www.signalenergy.com.
Featured Product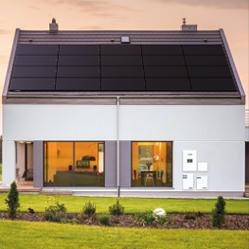 The Q.Home+ ESS HYB-G1 energy storage solution offers scalable storage capacity from 4.5 kWh up to 18.9 kWh and comes in a modular design for easy and fast installation. The system is offered in both DC-coupled and AC-coupled configurations and can connect up to 3 batteries in series using only one inverter and battery management system (BMS). The system includes an integrated backup power function for 100% of the rated inverter output to support critical loads in the event of power failure and offers remote monitoring using the QHOME+ web portal or QHOME+ ESS mobile app.