Expected to save the community $6.5 million
PATTERSON, Calif., Oct. 24, 2013 -- The City of Patterson and Chevron Energy Solutions will 'flip the switch' on a solar and energy efficiency project that is expected to save the community $6.5 million and reduce its utility electricity purchases by 90 percent.

In what may be the first of its kind and scope in Stanislaus County, the project includes solar installations and energy efficiency programs designed to reduce energy usage. The city will generate its own green, renewable electricity, dramatically reducing citywide energy costs, saving taxpayers an estimated $6.5 million over the life of the project, and making neighborhoods safer by replacing streetlights with more efficient LED fixtures.
The 'flip the switch' ceremony will take place on Thursday, October 24 at 5:00 pm at the Community Complex, Hammon Senior Center, 1033 W. Las Palmas Avenue, Patterson.
About Chevron Energy Solutions: Chevron Energy Solutions is one of the largest installers of solar power in the US public sector and has developed hundreds of projects to develop and build renewable energy, increase energy efficiency, reduce energy costs, and support sustainability. Its parent, Chevron Corporation, invests across the energy spectrum to develop energy sources for future generations by expanding the capabilities of alternative and renewable energy technologies. For more information: www.chevronenergy.com.
About the City of Patterson: Patterson, called the "apricot capital of the world," is in Stanislaus County, 27 miles southeast of Tracy and 17 miles southwest of Modesto. With a population of over 20,000, Patterson is a rural small town surrounded by agricultural land. Agriculture is still its primary economic base, including apricots, almonds, walnuts, dry beans, and tomatoes. But over the last decade, Patterson's economy has begun a diversification process, with several major national and international companies including Amazon, Wal-Mart, W.W. Grainger, CVS Drugs, Kohl's and Affinia Brake Parts locating major warehousing and distribution facilities in the city's West Patterson Business Park. Patterson's strategic location along the Interstate 5 corridor will facilitate future growth in the commercial, industrial, and residential sectors. For more information: http://ci.patterson.ca.us/.
Featured Product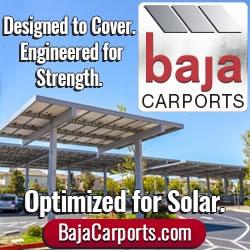 Baja Carports offers an extensive solar support system product line customized to customers' site specifications by in-house engineers, meeting their parking lot coverage, plus optimal PV production needs. Baja's Full Cantilever Tee is often paired with its Semi and Full Cantilever carports to meet live/loads up to 60psf and wind speeds to 160mph. All Baja products are pre-fabricated, bolted connections, pre-galvanized structural steel for fast on-site installation and project aesthetic requirements."