SolarWindowT is now the subject of forty-two (42) US and International patent filings.
October 30, 2013 Columbia, Md. -- New Energy Technologies, Inc.

(OTCQB:NENE), developer of SolarWindowT, the world's first-of-its-kind
see-through technology capable of generating electricity on glass and
flexible plastics, has announced plans to unveil the Company's next
generation, high performance SolarWindowT working prototype within the
upcoming calendar quarter.
"Our next-generation SolarWindowT has been engineered to deliver an
architecturally neutral, aesthetically-pleasing, solution-processable
coating technique for depositing see-through electricity-generating coatings
on to glass surfaces as a source of electricity to today's towers, offices,
and commercial buildings," stated Mr. John A. Conklin, President and CEO of
New Energy Technologies, Inc. "The first-ever public demonstration of our
next-generation prototype and its electricity-generating capabilities is the
result of several important technical breakthroughs, over forty two (42)
patent filings, the collaboration of strategic partners, and ongoing support
and financing by our loyal shareholders and lead investors."
Today's announcement follows this month's successful $3 million financing by
principal investor, Kalen Capital Corporation, and news of Company
researchers achieving faster fabrication time, improved transparency, and a
two-fold increase in power conversion efficiency using New Energy's novel
spray applications. Researchers have also engineered an improved device
design and architecture, and reported greater transparency.
As a result, the Company recently announced expanded applications of its
electricity-generating coatings to high-value applications such as aircraft
bodies, associated hardware, and pilot flight suits for producing reliable,
low-cost, light-weight ancillary and emergency power.
SolarWindowT is now the subject of forty-two (42) US and International
patent filings. The technology is produced using low-cost manufacturing
methods, and is capable of remaining see-through and light-weight while
generating electricity using both natural and artificial light sources, as
well as in shaded conditions at all times of the year. In contrast,
conventional solar photovoltaic (PV) technologies can be heavy and bulky,
and typically require expensive manufacturing processes. Today's typical
solar PV products are impossible to see through, with opaque surfaces which
only work efficiently when exposed to direct (or near direct) sunlight
during optimal weather conditions.
Currently under development for eventual commercial deployment in the
estimated 85 million commercial buildings and detached homes in America,
SolarWindowT is the subject of forty-two (42) patent filings and is the
world's first-of-its-kind see-through technology capable of generating
electricity on glass windows and flexible plastics; and a planned 'building
integrated photovoltaic' (BIPV) technology. BIPV products are expected to
achieve compound annualized growth of 41%-plus through 2016, according to
Pike Research.
New Energy's high-performance working SolarWindowT prototype will be
publicly unveiled within the upcoming calendar quarter, 2014. The Company
anticipates that unveiling dates, venue, and additional information
regarding the technology will be available before year-end, 2013. For more
information, visit: www.newenergytechnologiesinc.com
Featured Product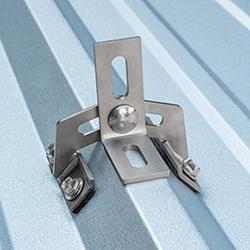 Error-Proof Compression: The QB2 doesn't leave any room for user error when it comes to Microflashing® compression. Once the Dual Drive Shoulder Screw is secured, the Microflashing® is compressed. Only 3 Components: The QB2 is comprised of Microflashing®, an L-foot and a Dual Drive Shoulder Screw. No more Nuts needed to tighten and secure the L-foot! Not only does this simplify the installation process, it also cuts down the installation time.