Clean, safe electricity generated will provide equivalent power for roughly 22,000 average households
Kyocera Corporation (President: Goro Yamaguchi) today announced the launch of a 70 megawatt (MW) solar power plant in Kagoshima Prefecture, southern Japan. The Kagoshima Nanatsujima Mega Solar Power Plant went online on November 1 and is being operated by a special purpose company established by Kyocera and six other companies to sell the electricity to a local utility under Japan's feed-in-tariff (FIT) program. An inauguration ceremony was held on November 4, with the attendance of company representatives and local governments to commemorate the launch of the country's largest utility-scale solar power plant.

Inauguration ceremony of the Kagoshima Nanatsujima Mega Solar Power Plant
Expectations and interest in solar energy have heightened to a new level in Japan with the need to resolve power supply issues resulting from the Great East Japan Earthquake of March 2011. To further promote the use of renewable energy, the Japanese government launched a restructured FIT program in July 2012, which stipulates that local utilities are required to purchase 100% of the power generated from solar installations of more than 10 kilowatts (kW) for a period of 20 years.
Exploring a new business model for utility-scale solar power generation, Kagoshima Mega Solar Power Corporation was established by Kyocera and six other companies in July 2012. Under a financing plan devised by Mizuho Corporate Bank, the new company was tasked to develop and operate the 70MW solar power plant on land owned by IHI Corporation — with the power generated to be purchased by Kyushu Electric Power Co., Inc. based on the FIT program. As the largest shareholder of the new company, the Kyocera Group was responsible for the supply of solar modules as well as part of the construction, and will also undertake maintenance of the system with Kyudenko Corporation.
The 70MW Kagoshima Nanatsujima Mega Solar Power Plant
Additionally, a tour facility has been built adjacent to the 70MW plant — which is open to the public — featuring a circular viewing room where visitors can observe the 290,000 solar panels from an elevated vantage point and enjoy the view of the ocean bay and grand Sakurajima volcano in the background. Display zones for visitors such as students and tourists provide information about environmental issues and the science behind photovoltaic energy generation. By dedicating this facility, all parties involved hope to foster a deeper understanding of renewable energy and further facilitate a low-carbon society.
About KYOCERA
Kyocera Corporation (NYSE:KYO)(TOKYO:6971) (http://global.kyocera.com/), the parent and global headquarters of the Kyocera Group, was founded in 1959 as a producer of fine ceramics (also known as "advanced ceramics"). By combining these engineered materials with metals and integrating them with other technologies, Kyocera has become a leading supplier of solar power generating systems, mobile phones, printers, copiers, electronic components, semiconductor packages, cutting tools and industrial ceramics. During the year ended March 31, 2013, the company's net sales totaled 1.28 trillion yen (approx. USD13.6 billion). The company is ranked #492 on Forbes magazine's 2013 "Global 2000" listing of the world's largest publicly traded companies.
Featured Product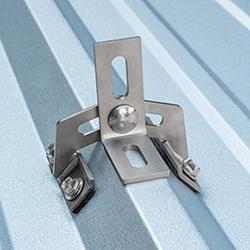 Error-Proof Compression: The QB2 doesn't leave any room for user error when it comes to Microflashing® compression. Once the Dual Drive Shoulder Screw is secured, the Microflashing® is compressed. Only 3 Components: The QB2 is comprised of Microflashing®, an L-foot and a Dual Drive Shoulder Screw. No more Nuts needed to tighten and secure the L-foot! Not only does this simplify the installation process, it also cuts down the installation time.