Congressman Neal and Secretary Sullivan attend event that highlights the community and economic benefits of First Wind's solar project in Warren, Mass.
WARREN, Mass.--First Wind, an independent U.S.-based renewable energy company, was joined today by state and community leaders, Massachusetts energy officials, and renewable energy and solar industry representatives for a groundbreaking ceremony to mark the start of construction of its 14 megawatt (MW) (AC) solar project in the town of Warren, Mass. Located at three sites in the town of Warren, First Wind's solar project will be the second-largest in Massachusetts and, along with a 3 MW (AC) project in Millbury, represent the company's first renewable energy projects in its home state and first solar developments.

During a groundbreaking ceremony on the project site, First Wind officials were joined by Massachusetts Congressman Richard E. Neal and Secretary Richard K. Sullivan Jr. of the Massachusetts Energy and Environmental Affairs, who shared praise for the projects' significance.
"I strongly favor an 'all-of-the above' energy strategy that utilizes all of America's natural resources," said Congressman Richard E. Neal. "This comprehensive approach has already generated significant investment in our domestic energy industry, helped create jobs, and reduced U.S. dependency on foreign oil. It also reduces air pollution and protects our environment. If we are to become energy independent, ventures like First Wind's solar project in Warren need to be enthusiastically supported. The Commonwealth of Massachusetts leads the nation in energy efficiency, and this exciting solar project brings us closer to a clean energy future."
"Massachusetts takes pride in being a leader in clean energy. We are happy to be home to more than 5,500 clean energy companies, like First Wind, and we are pleased that they chose to develop their first solar project right here in the Commonwealth," said Energy and Environmental Affairs Secretary Rick Sullivan. "Not only will this project provide the community with clean, renewable energy, it will also contribute to Governor Patrick's goal of 1,600 MW installed by 2020, helping to lower costs for ratepayers while ensuring a more sustainable energy landscape for Massachusetts' future."
First Wind broke ground after securing financing and finalizing a 30-year power purchase agreement (PPA) with the University of Massachusetts (UMass), with the majority of the power generated being delivered to the Lowell and Medical Center campuses. Through these solar projects, UMass will save more than $1 million in annual energy costs, or a total of more than $30 million over the course of the 30-year agreement.
"We are proud to begin construction on our first solar project in our home state of Massachusetts," said Paul Gaynor, CEO of First Wind. "We would like to thank our great partners in the University of Massachusetts, Borrego Solar, and the communities of Warren, Millbury, and Orange, for helping us to bring clean, renewable energy to the Commonwealth. This project is a testament to the policies put in place by the state's leaders, which have made Massachusetts a very attractive place to develop renewable energy projects while also creating a market where we can sell cost-competitive, clean power to homes and businesses in the state."
Once the solar projects are operational, First Wind will make yearly tax payments to each of the towns – $130,000 annually for Warren and $50,000 annually for Millbury – as well as contribute conservation land within the host communities. In addition, the towns of Millbury and Orange will realize annual energy savings by receiving a smaller portion of the energy generated through net metering agreements.
"It is inspiring to see how renewable energy projects such as First Wind's solar project in Warren can inject new revenue into Worcester County's economy for our sustainable future," said Senator Stephen M. Brewer. "As the second largest solar project in Massachusetts, local businesses and residents have been put to work throughout the development phase, and many more will continue to contribute work throughout the construction and operational phases of this project."
"The First Wind solar project will both contribute to the Commonwealth's renewable energy goals, and serve as a positive economic contributor in the area," said Representative Todd M. Smola. "I am excited to see the benefits this project will bring to both Warren and the surrounding communities."
These Massachusetts-based projects are the first solar projects that are part of the First Wind Solar Group, formed in an effort to explore potential development opportunities across the company's current footprint in the Northeast, the West and Hawaii.
"We are excited to welcome First Wind into the solar community and look forward to working with them on future project development and implementation," said Carrie Cullen Hitt, Senior Vice President, State Affairs, Solar Energy Industries Association (SEIA). "To have a successful wind developer pick Massachusetts as its first expansion into solar underscores that the Commonwealth's policies are working by attracting new investors that bring projects and jobs to the state along with savings to customers."
Construction on the Warren and Millbury solar projects is being led by Borrego Solar Systems, one of the nation's leading designers and installers of commercial and utility solar power systems. Construction on all four project sites should be completed and operating by June 2014. Construction activities will be a source of economic activity for the local economies by creating roughly 85 construction-related jobs and driving spending with local businesses. The projects will represent a significant investment in Massachusetts and the communities along with millions of dollars in construction, materials and development costs.
"This year, the Commonwealth ranked third in new solar capacity, nationally. To date, Borrego Solar has installed over 38 MW of solar energy capacity in Massachusetts and is proud to now be aligned with a fellow renewable energy leader in the region to help keep the local solar industry moving forward," said Mike Hall, CEO of Borrego Solar. "Aside from providing significant energy cost savings for UMass, Orange and Millbury, the project will create local jobs and help shift the state's energy supply towards clean, local sources."
About First Wind
First Wind develops, finances, builds and operates utility-scale renewable energy projects throughout the United States. Based in Boston, First Wind currently operates wind power facilities in the Northeast, the West and Hawaii, with combined capacity of more than 1,000 megawatts (MW) – enough to power about 300,000 U.S. homes each year. For more information on First Wind, please visit www.firstwind.com or follow us on Twitter @FirstWind.
About Borrego Solar
Established in 1980, Borrego Solar Systems, Inc. is one of the nation's leading financiers, designers, developers and installers of commercial and utility solar power systems. Borrego Solar's photovoltaic systems are efficient, reliable and cost-effective. With more than three decades of experience and more than 1,000 solar power installations completed—totaling close to 90 MW—Borrego Solar offers a complete line of solar systems design and installation services throughout the country. For more information, visit www.borregosolar.com.
Featured Product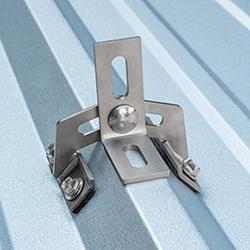 They have been changing the game for 10 years with their original Top Mount line for Asphalt Shingle roofs, and by now supplying one of the widest ranges of solar mounts in North America. From their patented products, to the custom production services they offer, QuickBOLT has been working with solar installers for nearly a decade to make solar installations easier than ever before.